Glass showers
You decide which solution is ideal for you.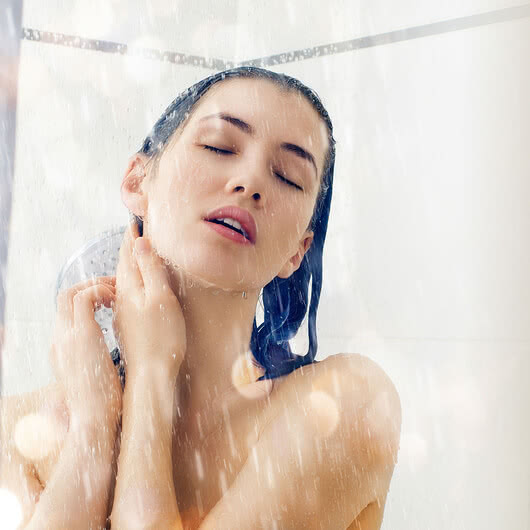 Shower dreams come true!
Our visions of glass bathrooms become a reality – from the original idea to delivery – in our four own Sprinz factories. Transform your bathroom into a wellness oasis with a frameless glass shower or glass shower unit. Whether you require a niche glass shower, corner glass shower or a walk-in glass shower, our customised planning will make your personal shower dream come true – from a tiny glass shower through to a spacious shower palace.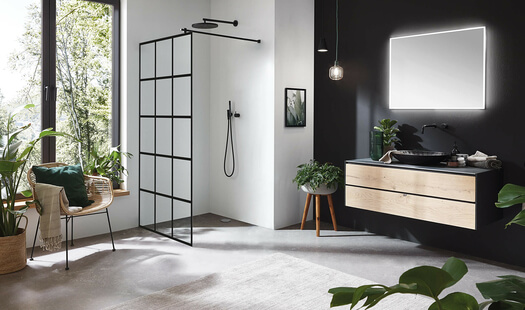 Inloop Black Square
Walk-in glass shower in trendy industrial style: The Inloop Black Square with black squares in ceramic screen printing and matching fittings.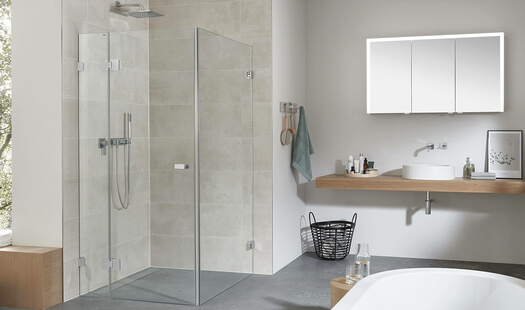 Granat
The Granat glass shower impresses with its powerful and aesthetic fittings, which hold particularly large-format doors without any problems.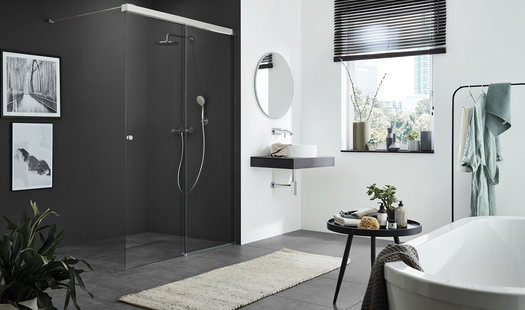 Tansa
Exceptional design and well-conceived function: level-access shower Tansa with sliding door and soft stop.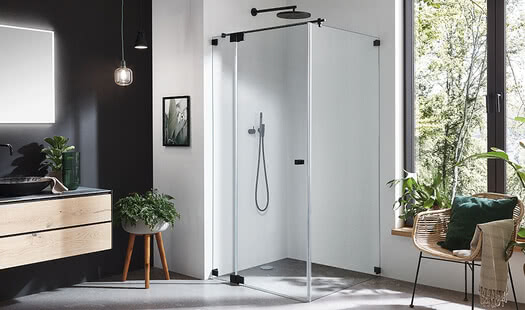 Omega Black Edition
The Omega Black Edition shower from SPRINZ brings black hinges into the bathroom, combining well thought-out functionality with design. Click here to find out more.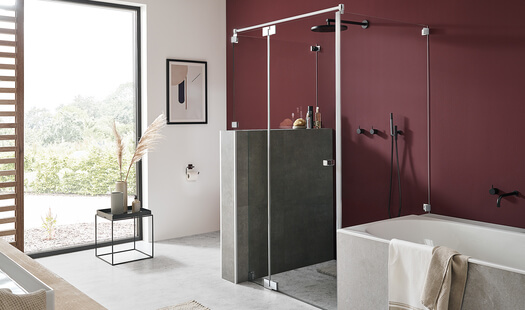 Omega
Level-access shower or walk-in shower? It doesn't matter what you call it, Omega by Sprinz is comfortable and makes your bathroom look more spacious.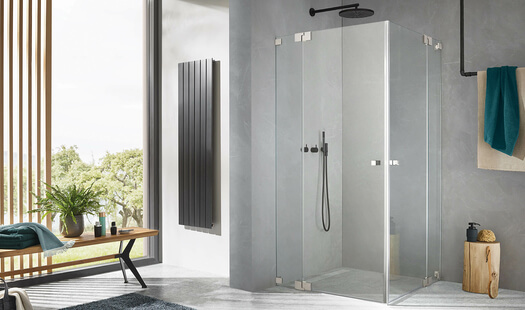 Omega SuperSteel Edition
The fitting surface gives the Omega glass shower a steel look and transforms it into the Omega SuperSteel Edition. Read more here!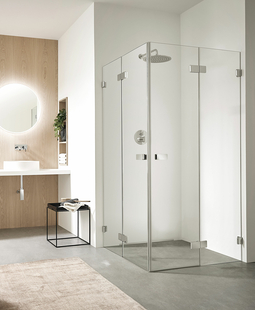 Vega
A unique hinge. Strong an functional design.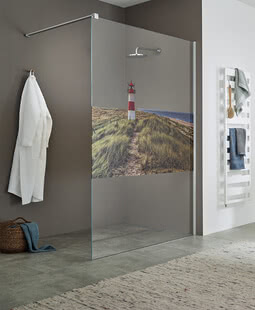 ColorStar
Vibrant motifs in laminated glass for your walk-in solution.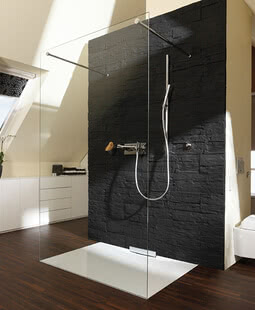 Inloop
Glass shower panel for large showers and barrier-free solutions. Tailor-made on request.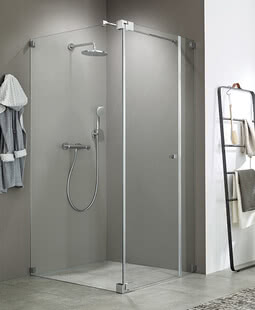 Walk-in Plus
Retrofit set for Walk-in glass showers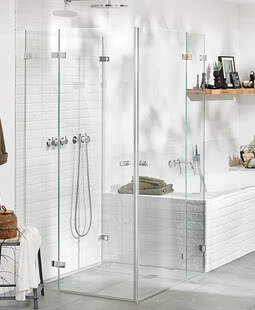 Fortuna
A fantastic package: model selection, elegant glass and fittings for easy cleaning. Glass coating on the shower included.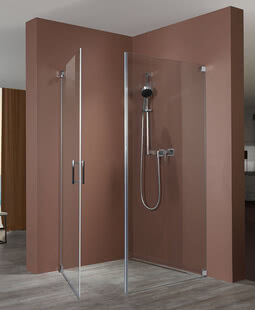 Achat R Plus
Open, raise, close, lower, swing inwards and outwards: this ultra-slim hinge by Sprinz seals doors tight and moves even large shower doors.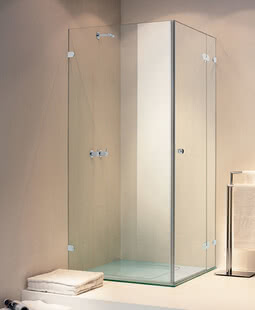 Spinell Plus
The Spinell Plus frameless shower enclosure ensures great convenience for cleaning and features an ingenious splash guard.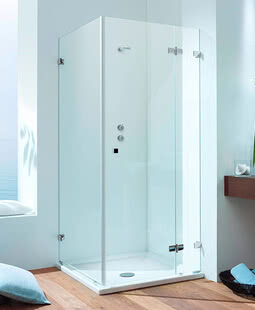 BS-Dusche
The Beryll frameless shower features flush-mounted hinges on the inside and glass coating for easy cleaning.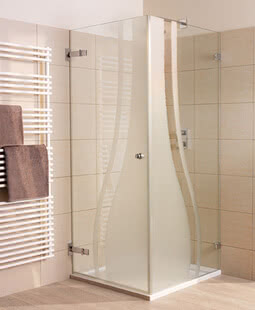 BS-Dusche 75/150
The Beryll frameless shower features flush-mounted hinges on the inside and glass coating for easy cleaning.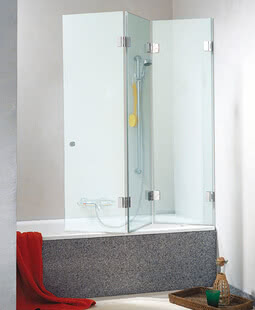 XXL
Shower or bathtub attachment – the XXL shower element provides space for showering pleasure, protects against flooding and can be folded away to save space.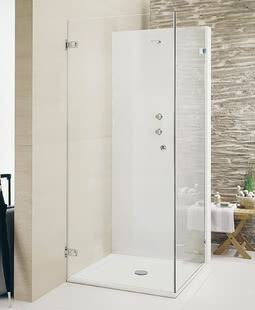 Beryll
The Beryll frameless shower features flush-mounted hinges on the inside and glass coating for easy cleaning.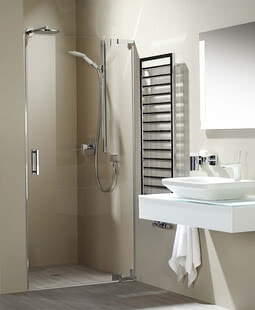 Omega 150
With the OMEGA 150 hinge, you open the shower door "around the corner" in difficult spaces. The door can be opened comfortably and wide thanks to the offset rotation point.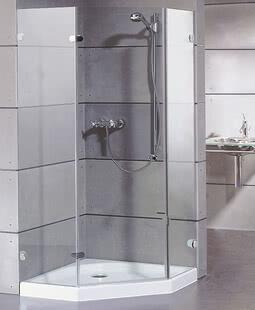 Saphir
This beautiful, robust shower is ideal for family or children's bathrooms. The model portfolio is extensive to ensure this shower enclosure will fit into many room layouts.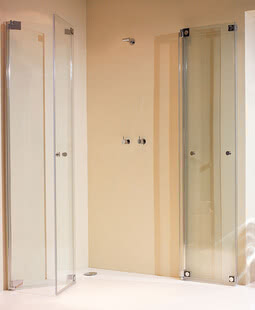 Omega Plus
Omega Plus is the level-access shower for compact, barrier-free bathrooms. This shower panel can folded together and away, thus saving space.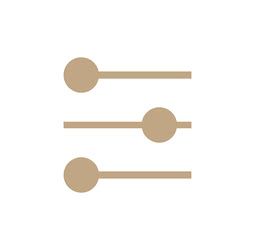 Showers filter
Benefits

Easy to clean
Special features like flush-mounted fittings or dirt-repellent surfaces

Barrier-free
These products help you create solutions for barrier-free baths and rooms
Tailor-made special solutions

As unique as you are
Customised bathrooms and challenging installation situations generally need more than just standard solutions. This is why SPRINZ creates tailor-made showers to fit perfectly into your bathroom. Whether it is round panes or border sections, protruding walls or sloping roofs – SPRINZ can offer a real glass shower to suit every bathroom. The shower is tailored to your individual requirements with special hinge finishes, wall fastenings, door handles, additional accessories and SpriClean® or SpriMedical® glass finishes. Simply contact us and together we will work out a customised solution.

Our on-site measurement service gathers all the data for side walls, doors, rear panel glazing and shower bases. Then the measurements are checked and applied at the SPRINZ factory.
Perfectly designed and quickly installed
There are a few work steps between the design and assembly, which need to be planned carefully. The substrate needs to be prepared in good time, so that elegant flush-mounted solutions can be provided in new buildings and modernisations. The Sprinz team is available to help you with guidance and support and is a professional contact point for specialist planners and tradesmen.