Care tips for the bathroom
Tips and tricks for cleaning mirror cabinets, wall mirrors and glass bathroom furniture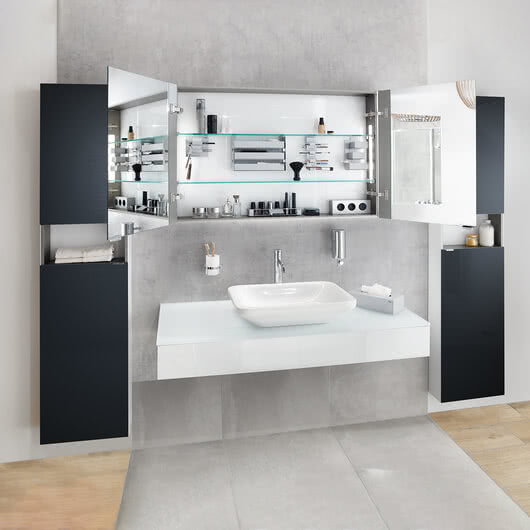 Cleaning and care tips: What's the best way to clean a bathroom?
Your wonderful dream of a new bathroom has finally come true. So, obviously, you want everything in it to look like new for as long as possible.

Our mirror cabinets, flat mirrors and bathroom furniture are made of a variety of different materials. Both the design and the choice of material are primarily a matter of functionality and therefore use. When products leave our plant, we always ensure the highest quality. So if you give them the right care, you'll enjoy them for a very long time. In this section we have compiled the most important care and cleaning tips for the bathroom.
General care tips for your bathroom
Our bathroom furniture has been designed to provide you with an ideal solution for the storage of daily hygiene, cosmetic and cleaning products and much more. However, many of these products can be aggressive, so make sure you never leave nail varnish remover or drain cleaner without the lid on. This is because they tend to release fumes which may cause damage to mirror doors, handles, bathroom surfaces and other materials in the bathroom.

As our products are particularly easy to clean, you'll never have to spend much time on them. Basically, the more often you remove minor dirt from a product, the easier it is to clean in general. This is why, under normal circumstances, it's enough to use a soft dry cloth. If dirt is more persistent, moisten the cloth slightly with plain water. There's no need for additional cleaning products. To finish, we recommend drying all surfaces completely.

Here's a summary of the most important tips:
Clean all surfaces regularly. The older the dirt, the more difficult it is to remove.

Don't let spills dry up, but remove immediately.

Use soft, non-abrasive cloths on all surfaces.

Cleaning without water works best with a soft, clean cloth (ideally microfibre or chamois leather).

If dirt is persistent, use a clean cloth moistened with plain water. Then dry the area completely with a dry cloth.

Avoid scouring agents, steel wool, cleaning products with abrasive additives and products containing vinegar, citric acid or any other chemicals, as they may cause damage to a surface.

Do not use a razor blade, a ceramic scraper, steel wool, an abrasive scouring sponge or scouring cream or powder.

Make sure the bathroom is sufficiently well ventilated.
What's the best way to clean a mirror?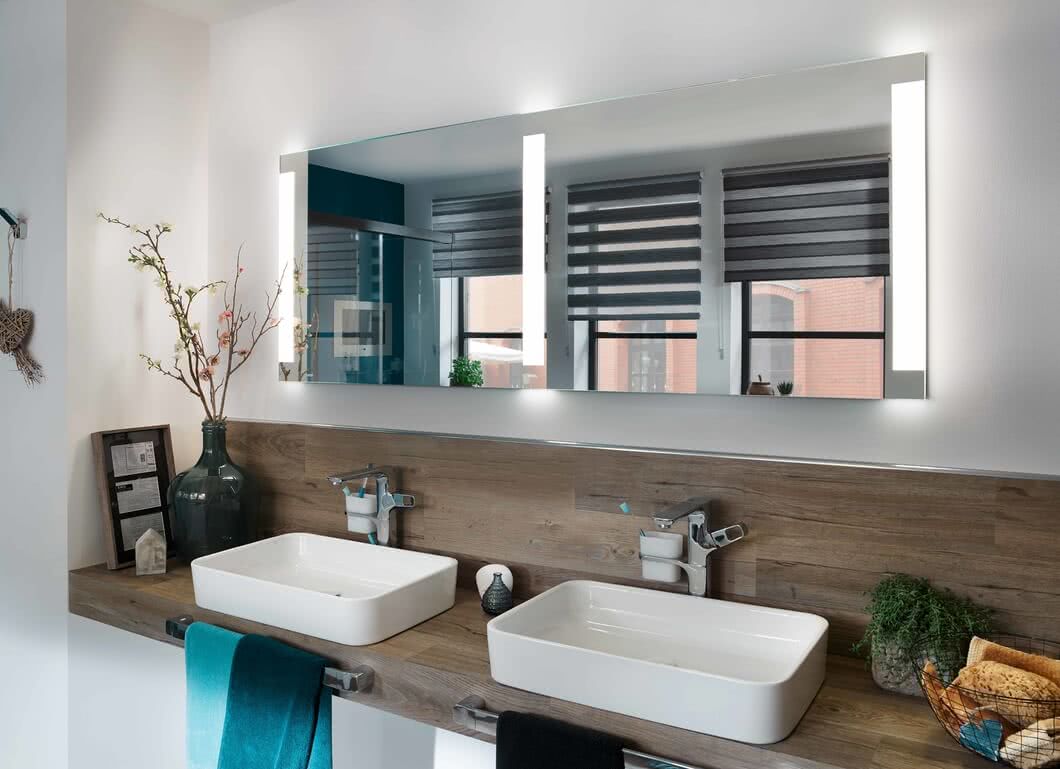 The best way to clean mirrors and glass surfaces is with plain water and a soft cloth. You can prevent cleaning marks by thorough rinsing and then drying the surface completely with a dry cloth. Be particularly careful to completely dry mirror edges and borders, as water residue can lead to stains and even damage the edges and frames.

Care tips for mirrors – an overview:
Clean with plain water and a microfibre cloth.

Don't leave stains to dry, but remove immediately.

Rinse and dry thoroughly to avoid cleaning marks.

Edges and borders of mirrors should be dried completely, as water residue may cause not only marks but also damage on edges and borders.
Our tip: SoftShiner anti-fogging spray

A bathroom mirror is indispensable for your daily make-up or shave. However, after a long shower, it can easily get misted up, and if you're in a hurry, you haven't really got the time to get out the hairdryer and blow-dry the surface of the mirror. This is where SPRINZ has the perfect solution: SoftShiner spray, which prevents steam from fogging up the mirror.

In fact, it's multifunctional, as its highly concentrated bioalcohol guarantees effortless and streak-free cleanliness. Long-lasting water repellence gives durable protection from dirt and limescale, making cleaning significantly easier.

It can also be cleverly used in other areas. Anyone who wears spectacles knows what it's like in winter, when you get on a bus or enter a building, and the rapid change from cold to warm air mists up your glasses and restricts your vision. Just treat your spectacles with SoftShiner before wearing them, and it won't happen again.

It's similar with older cars, as they often suffer from misted-up windows in winter. Depending on the model, car windows can even freeze up inside. You can prevent this by using the anti-fogging product from SPRINZ.

Other areas include real glass showers, windows and conservatories, to name but a few.
More
Bathroom cleaning FAQs
How often should I clean the bathroom?
Basically, you should clean your bathroom thoroughly once a week.

With glass surfaces, it's usually perfectly adequate to wipe them with a damp cloth once a week. However, splashes and stains should be removed immediately, so that they do not dry up and harden. If necessary, also clean the covers of bathroom lights and the surfaces of the shower unit and of cabinets once a week.

Whether you need to clean the inside of the furniture should depend on how often you use it. It should be sufficient to wipe the inside of a cabinet completely every few months. At the same time, you may also want to check your cosmetics for their shelf life and remove any that are out of date.
How can I avoid lime stains on glass?
If drops of water land on mirrors or on the surfaces of the shower unit or cabinets, it is good to wipe them off straight away. Clean the surfaces with plain water and a microfibre cloth, then wipe them dry. This will prevent the formation of limescale residues.
How can I avoid streaks and cleaning marks on glass and mirrors?
When you clean a glass surface, use either a clean cloth or at least one without any soap residues. Cleaning cloths should never be washed with fabric softener. They should be rinsed with plenty of plain water after you've washed them, removing the detergent completely. To be absolutely sure, finish by wiping the glass surface dry with a chamois leather cloth.
Which cleaning products are best suited for the bathroom?
As our products are easy to maintain, a mild cleaning product should be sufficient, following the principle: the milder, the better. Quite often, plain water is enough.

However, never use scouring agents, steel wool, cleaning products with abrasive additives, agents containing vinegar, citric acid or any other chemicals, as they may cause damage to the surfaces. Also, don't use a razor blade, a ceramic scraper, steel wool, an abrasive scouring sponge or scouring cream or powder.
What can I do about a bad smell in the mirror cabinet?
Something got knocked over and leaked, and although you cleaned up immediately, it has left a nasty smell in your mirror or bathroom cabinet. One simple trick to get rid of the problem is to place some ground coffee in the cupboard. It absorbs the smell and replaces it with a pleasant and distinctive aroma.