Exterior
Create outdoor living environments with glass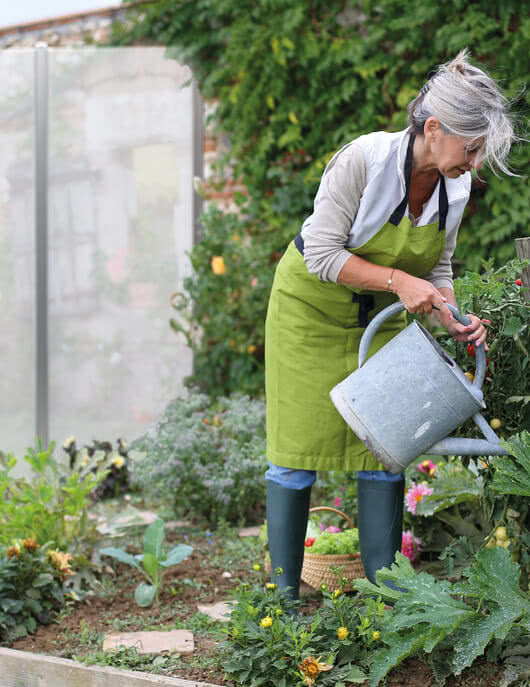 Individual glass products for outdoor spaces
You can create private, public or commercial outdoor spaces as a stylish ensemble or a customised solution with the Sprinz product range. Choose printed glass elements in an elegant aluminium profile for your privacy screens and wind screens on balconies and terraces. Discreet matt white or printed with one of the many motifs – deceptively real. Printed glass elements save space, are enduringly beautiful and easy to maintain. Ideal as a glass fence on the property boundary. Or choose a flexible balcony and terrace glazing which you can open and close as required. Create balcony hand rails to match a privacy screen or glass fence and ensure everything coordinates. Timelessly elegant Sprinz canopies bring protection and more light. All Sprinz glass ideas meet a high standard in design and function for outdoor areas.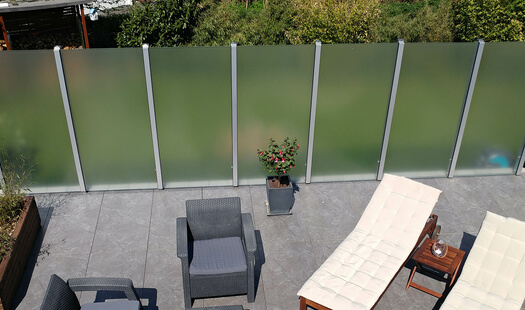 Privacy screen
Noise, wind and glances stay on the outside with opaque- or matt-printed safety glass and a post system. Sprinz glass fences and wind screens on balconies and terraces impress with their small footprint and easy-to-clean, maintenance-free surfaces.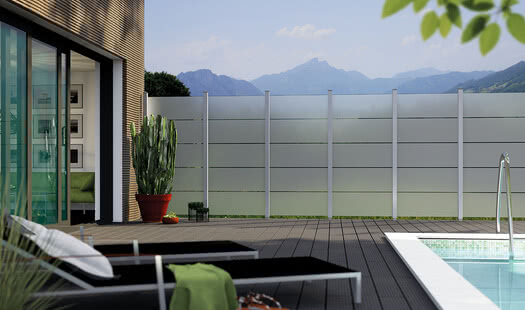 Post systems
Post systems hold the glass elements for the glass fence or privacy screen on balcony or terrace. Different surfaces, integrated hinged doors, LED lighting or mobile solutions provide tailor-made privacy screens.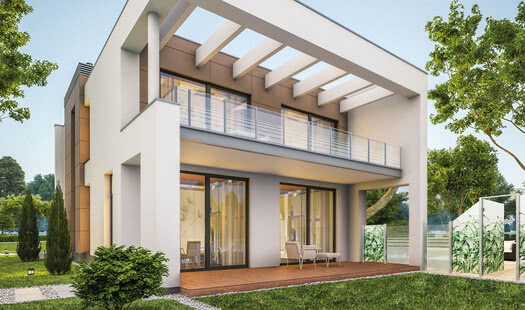 Glass balustrades
Glass balcony systems make balconies look bigger, bringing them an air of lightness. From complete transparency with clear glass through to highly opaque colour, Sprinz offers plenty of scope for design.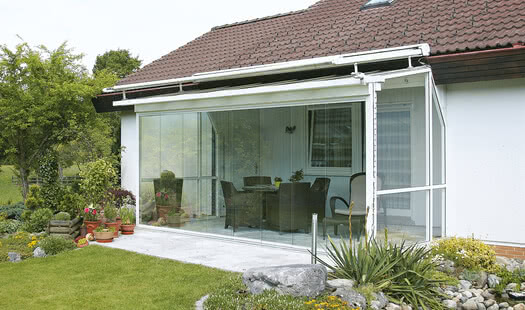 Motion Outdoor
Balcony or terrace glazing extends enjoyment of the fair weather season significantly. The transparent slide panels can be moved around in a profile as required.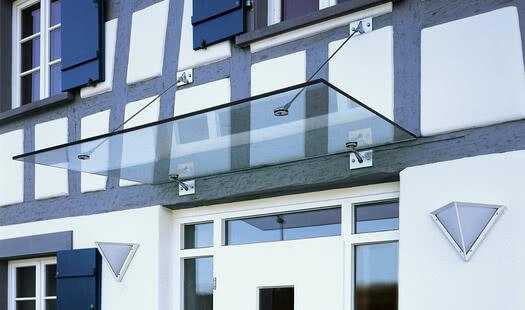 Canopies
Safety glass canopies blend into any architectural style with their clear design. Sprinz offers linear-mounted overhead glazing or point-supported glazing panes.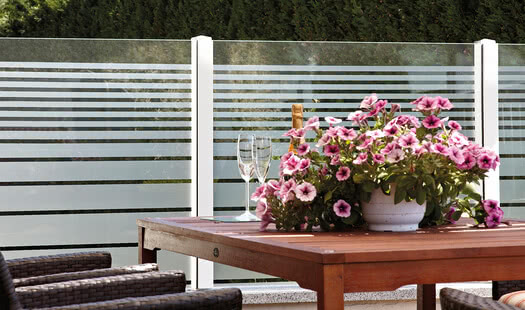 Design
Sprinz glass products allow you to be highly creative in outdoor areas. You can fashion tailor-made solutions with different glazings, ceramic print and LED lighting. Discover all the options open to you here.
Benefits

Maintenance-free
You save time and money, because no elaborate maintenance is necessary

Legal permissibility
Ask your local authorities about legal permissibility of erecting a glass fence. For widths of more than 1.000 mm there is no certified permit for the Premium system

Wind zones
To determine the maximum size of glass elements, ask us about the wind zone for your location.
Tailor-made custom solutions

As unique as you are
Unique glass in outdoor areas require more than just standard solutions. That's why Sprinz creates tailor-made solutions which make a perfect fit. Here, you'll find the right idea for everything, whether you require a privacy and wind screen, flexible balcony and terrace glazing, balcony balustrades or a canopy. Talk to us and together we will work out a suitable solution. The on-site measurement service collects all data, which are then checked and realised in our factory.