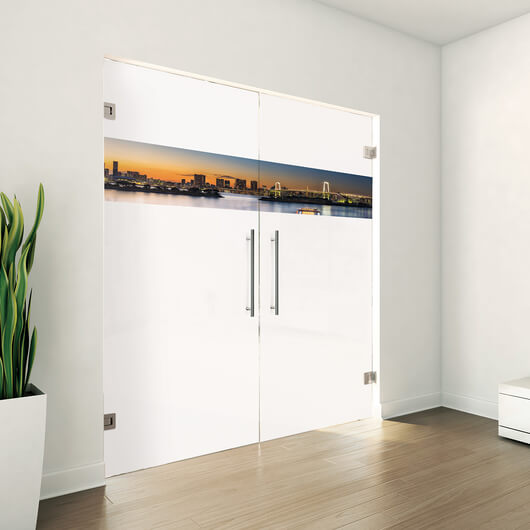 ColorDoor with UV digital printing: individually designed glass doors
Are you looking for a theme door that goes perfectly with your kitchen, bathroom or dining room? With a landscape, skyline or fantasy motif? Even more exclusive with family, vacation and private souvenir photos?

Our new ColorDoor product line offers the perfect motif for interior doors for individual requirements. We enable an almost limitless variety: whether from our extensive catalog of motifs, the huge archives of common Internet image databases or simply a motif that you photographed yourself.
SpriColor UV digital printing is available for even better print quality. Higher image resolution and brilliant image quality reveal a new dimension in digital printing.

Let yourself be inspired and create your SPRINZ dream door in just a few steps!
Step by step to your brilliant dream door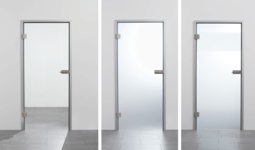 1.) Which door glass do you want?
In the first step, choose the basic glass made of 8 mm safety glass in clear glass. Optionally with full-surface ceramic screen printing in matt white or milk white.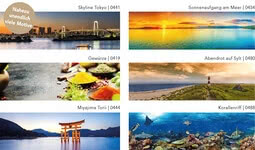 2.) Which motif would you like?
A panorama, food or a geometric shape from our extensive catalog of motifs? An image that you discovered in an image database? Or even your own dream photo from your last vacation? Your motif will be printed in the specified area on the glass door. When choosing a motif, you can be inspired by our back wall motifs.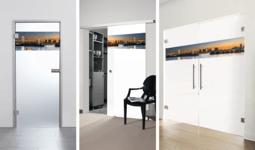 3.) What type of door do you want?
Whether it is a revolving door, sliding door or swing door: The motif can be printed on all types. This allows you to adapt your door to any requirement. How about, for example, a skyline for the way into the living room? Or fresh spices on a swing door for the passage to the kitchen? Coordinated with the motif of your kitchen back wall, you give your interior the finishing touch.
Technical Details
Basic glass made of 8 mm safety glass in clear glass

Optionally with full screen printing in matt white or milk white

Choice of motif from the SPRINZ standard motif catalog, a common online image database or your own motif

Individual motifs are photorealistically printed on the glass using UV digital printing

All standard and special sizes possible

Possible as a revolving door, sliding door or swing door including holes

Other types of glass, glass thicknesses or colors of the full-surface screen printing are possible on request
Gallery