World of Bathrooms design
For your stunning wellness oasis and get-ready station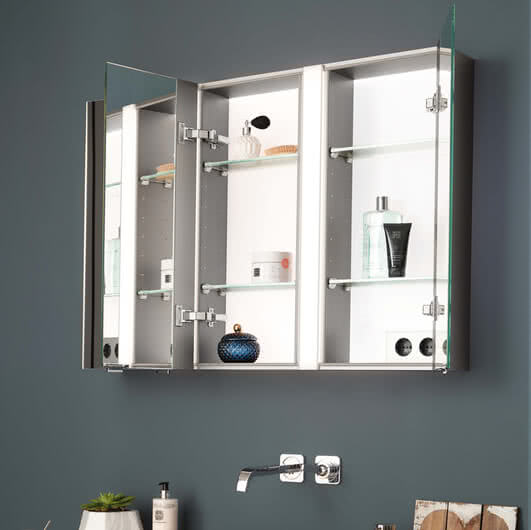 Scope for unusual bathroom moments
Sprinz allows you to design your bathroom to suit your needs and preferences. Complete as a dream bathroom or with a selected individual piece. On request, mirror cabinets and bathroom furniture are made-to-measure. A perfect fit beneath sloping roofs. You can also choose a flush-mounted or partially recessed installation for mirror cabinet elements. You can combine materials, surfaces and lighting however you wish. Discover all the options open to you here.
Body and rear panel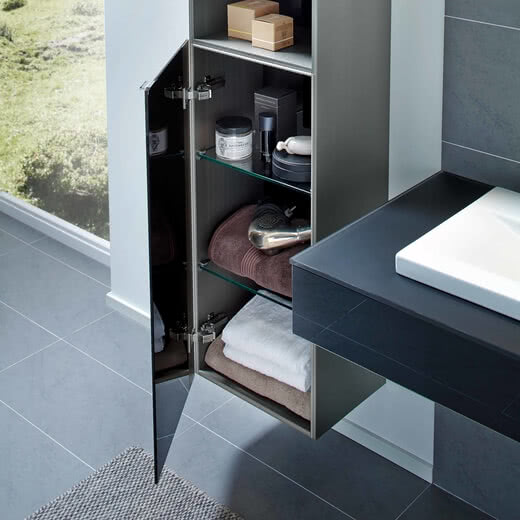 What should your cabinet look like?
Create mirror cabinets and bathroom furniture in your style. Do you prefer the cool look or a dazzling presence? Opt for a body in matt or glossy aluminium.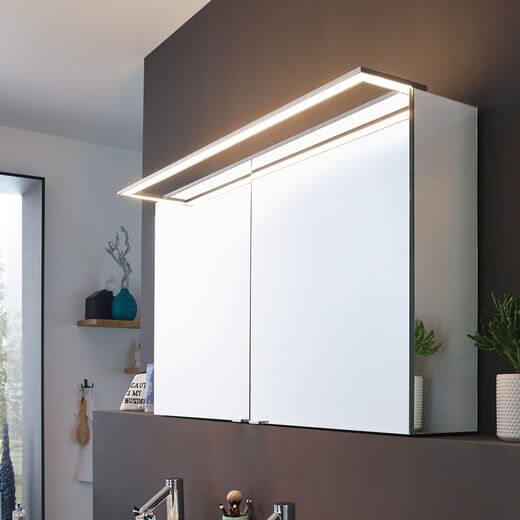 Interior and exterior can be freely combined
Many Sprinz mirror cabinets and bathroom furniture units can be freely combined. You can create the cabinet exteriors with mirrors or black and white printed glass. The rear panel can also be ordered in black and white glass. A mirror glass rear panel shows flacons to their advantage and allows you to quickly check everything is in its place.
Colour selection
Body finish

Matt aluminium

Gloss aluminium
Body exterior

Mirror
Rear panel

Mirror
Surface-mounted, partially recessed or flush-mounted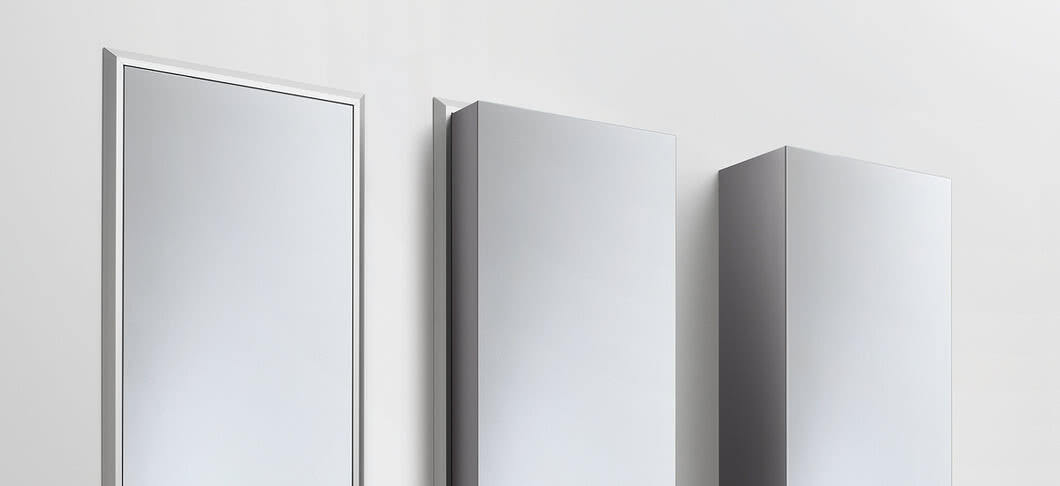 You won't find it often. In addition to the classic surface-mounted variant where the mirror cabinet or bathroom furniture is mounted directly on the wall, SPRINZ also offers a special style highlight: Flush-mounted versions. Play around with the third dimension: The mirror cabinets and bathroom furniture can also be partially recessed into the wall for a refreshingly different room design.
Installation box for mirror cabinets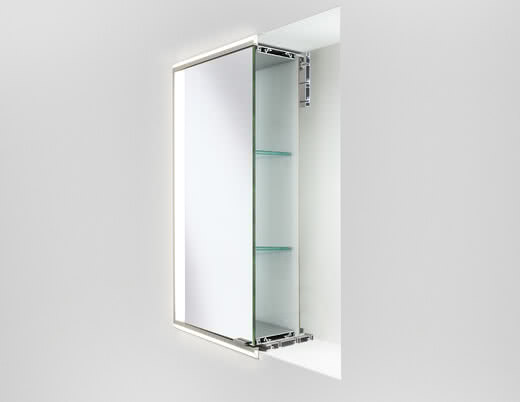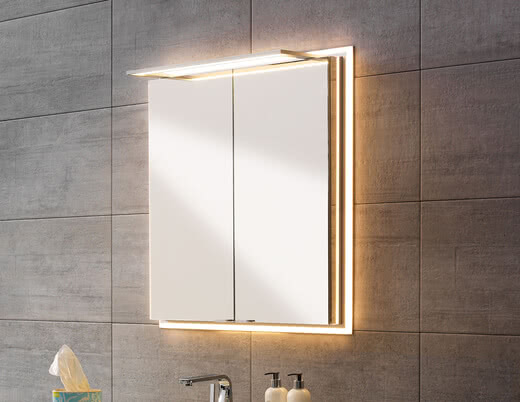 The box installation box impresses with easy installation of mirror cabinets. They are also simple to remove and inspect. A cover or light frame can be fitted perfectly.
Cover frame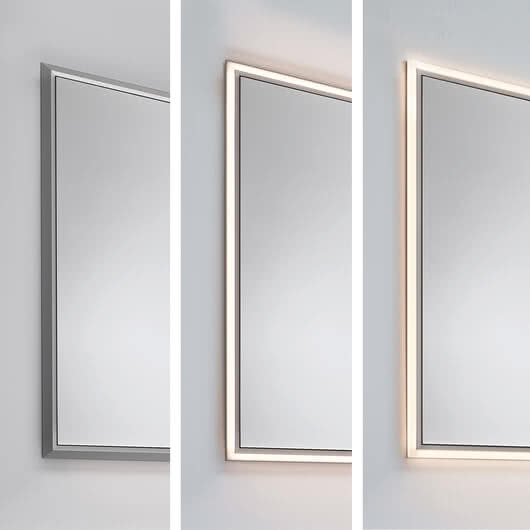 Cover frame
The cover frame can be used as perfect trimming to ornament the installation joint. Select appealing variants: the bevelled version which guarantees a soft join with the wall is available in matt aluminium and gloss aluminium or matt aluminium with LED light technology. The rectangular format with a more purist look is only available with LED technology. The lit frame has a separate switch.
More
Lighting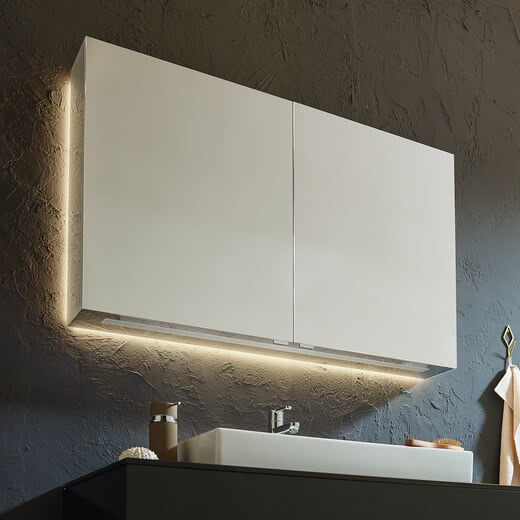 Cabinet lighting for more ambiance
The mirror cabinet and contents are well lit or illuminated with light to dramatic effect. What's more, with LED lighting, this focal feature of the bathroom can be accentuated or discreetly highlighted as you desire. White adaptation and dimming are possible, depending on the lighting type. Incidentally, Sprinz only uses energy efficiency class A+ LEDs.
More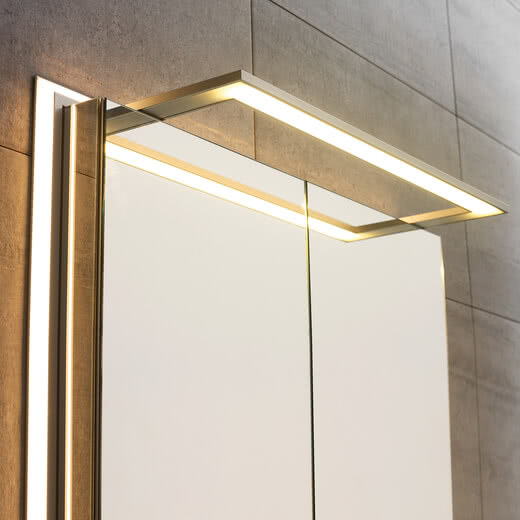 External lighting for mirror cabinets
The type of lighting that you choose for your Sprinz mirror cabinet depends entirely on your own preferences. You can control the particular light colour you need on the mirror as desired using the white light adaptation, depending on the model. This means you'll always have the perfect light for shaving or putting on make-up. Sprinz only uses energy efficiency class A+ LEDs.
More