Care tips for glass showers
Lasting pleasure with the right care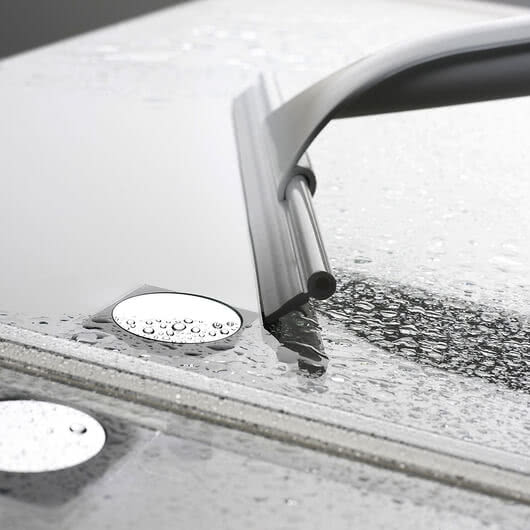 Care tips and how to clean glass showers
SPRINZ glass showers are made of high-quality materials and are therefore particularly easy to clean. The hinges are flush on the inside of the glass, making them much easier to clean. The real glass shower can be finished with our innovative SpriClean® and SpriMedical® method, preventing dirt and germs.
As improper handling can cause scratches on toughened safety glass (TSG), which might then attract dirt, we suggest that you look after your glass shower regularly and in the right way. This care procedure ensures that you'll enjoy your SPRINZ product for a long time.
General care tips for your shower
Clean your shower unit at regular intervals, to stop the formation of limescale, soap residue and any other dirt. Make sure you don't open or close the shower doors for 24 hours before using your shower for the first time. This is so that the silicone can dry completely. For the same reason, don't do any cleaning during that time.

Cleaning your glass shower
Whenever you've had a shower, we recommend that you clean the panels with a rubber squeegee and then dry the glass and fittings with a soft cloth. However, if you find at times that the screen is rather dirty, simply clean it with a mild cleaning product. We would advise against using abrasive agents or sponges, as they can cause scratches. Don't use scouring cream, scouring powder or cleaning products containing large amounts of alkaline, chlorine or bleaching agents or concentrated drain cleaners on seals or glass panels. Neither should you use steel wool or steel cleaners, abrasive cleaning products, pointed or sharp objects such as ceramic scrapers or spatulas or abrasive scouring sponges.

Here's a summary of the most important care tips:

Removing limescale
Persistent limescale can be removed with vinegar diluted in water. However, make sure the acid does not come into contact with any of the rubber seals or with any hinges that have special coatings. Otherwise the seals may corrode, or the material may flake off.

Preventing mould
To prevent the formation of mould, make sure your bathroom is sufficiently well ventilated.
Don't open or close the doors for the first 24 hours after installation. Don't clean during this time either.

Use a squeegee on the shower panels after each shower.

Clean the shower unit at regular intervals. The older the dirt, the harder it is to remove.

Only use a mild cleaning product, and make sure you follow the instructions.

Avoid using any abrasive or sharp cleaning products or any highly aggressive products.

Use a soft, non-abrasive cloth.

Use diluted vinegar essence to remove limescale.

However, beware: Don't use it on the hinges or on any special finish.

Make sure the bathroom is sufficiently well ventilated.
Cleaning products
We know our own products best. This is why we've developed exactly the right cleaning products for you, so that you can enjoy your glass shower as long as possible.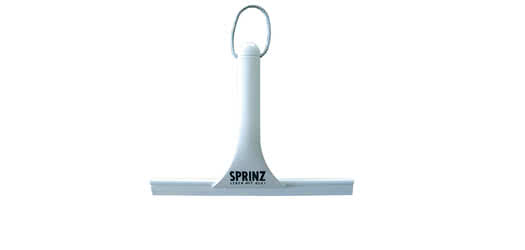 Squeegee
After a shower, use our squeegee to wipe down the glass panel with perfect ease, preventing limescale and dirt.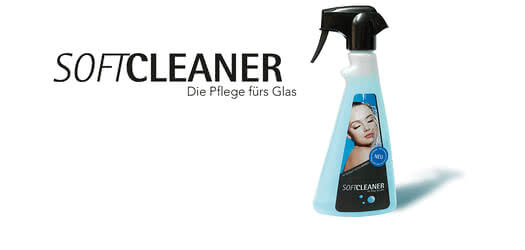 SoftCleaner®
SoftCleaner contains SpriClean® and is ideal for cleaning finished glass surfaces. It ensures that the glass panel keeps its water-repellent effect. At the same time, the water-based product provides protection and care for your real glass shower, glass shower base, wall glazing and glass shelves. Our special formula prevents cleaning marks and adds a nice sparkle to your glass. Not suitable for acid-sensitive surfaces such as natural stone and marble.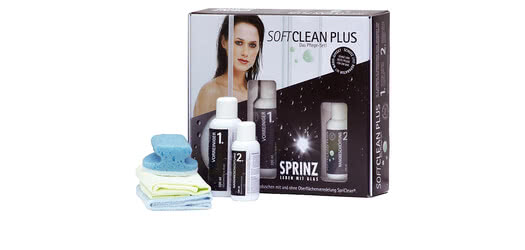 SoftClean Plus®
The SoftClean Plus care kit is suitable for basic cleaning, and it also carries out fast and simple "repairs" on the SpriClean® finish. The invisible finish seals the glass surface, prevents corrosion, puts the sparkle into the glass and has excellent care properties.
Shower cleaning FAQs
How often do I need to clean a glass shower?
To keep your shower sparkling for as long as possible and to prevent the glass from turning dull, we recommend cleaning the shower unit after each use. It's enough to wipe the glass down with a squeegee and then clean off any remaining drops with a soft cloth.

You only need to clean the unit more thoroughly once a week, using a mild cleaning product.
What are the best cleaning products for cleaning a glass shower?
As our products are easy to clean, a mild product should be sufficient. The milder, the better. Many products at supermarkets are aggressive and contain chemicals that may do lasting damage to the surface. For regular cleaning, it's even enough to use proven household remedies, which are also more environment-friendly.

Never use scouring cream, scouring powder or cleaning products containing large amounts of alkaline, chlorine or bleaching agents or concentrated drain cleaners, steel wool or steel cleaners, abrasive products, pointed or sharp objects such as ceramic scrapers spatulas or abrasive scouring sponges.

For long-term care purposes, we would recommend our SoftCleaner® and SoftClean Plus® care kit for your shower.
What is the lotus effect?
The lotus effect ensures that water is repelled by the shower panels more easily. It also prevents the formation of soap residues, so that your shower needs to be cleaned even less often.
To achieve the lotus effect, SPRINZ has developed the SpriClean® surface finish, which uses the properties of the lotus plant. As a result, the glass panels stay clean for longer.
How can I prevent or remove lime stains?
Whenever drops of water remain on the glass or panel after showering, they can leave unsightly lime stains. We therefore recommend cleaning the shower with plain water and a soft cloth after each use. Simply use a shower squeegee and then wipe the surface dry.
If limescale residues do occur, you can remove them with diluted vinegar essence. However, make sure the vinegar doesn't touch any of the rubber joints or hinges with special coatings, as those surfaces are rather sensitive.
How can I avoid cleaning marks on the glass when cleaning it?
When you clean the glass surface, use either a clean cloth or at least one without soap residues. Don't wash your cleaning cloths with fabric softener, and rinse them with plenty of plain water after you've washed them. This is the only way to remove detergent completely. To remove marks from the glass, wipe the surface dry with a chamois leather cloth afterwards.
How can I prevent mould?
One dreaded evil in the bathroom is mould. It often forms in corners that are hard to reach and on silicone joints, and it's caused by humidity and heat. To prevent mould, dry the shower with a cloth after each use. Also ensure regular ventilation to keep the air circulating and to reduce humidity. You should therefore air the bathroom for quite a while after each shower.

However, if mould stains do form, you can remove them with high-proof alcohol. Apply the alcohol to the affected area, leave it to soak for about half an hour and then wipe it off with a cloth. Although vinegar is also effective against mould, it can damage the silicone. Once the mould has spread too far, all you can do is replace the silicone.
What does splash protection mean?
All SPRINZ shower partitions or shower walls meet the highest technical requirements according to DIN EN 14428 for splash water tightness.
For the standardized leak test, small amounts of water, i.e. a few drops, are permitted to escape into the outside area of ​​the shower. Depending on the profile geometry, the shape of the shower tray, the glass construction, the installation situation and the number and type of sealing profiles, more or less water escapes from the shower area. No shower is 100% splash-proof! Basically, framed and partially framed showers have a higher level of water protection than frameless showers. To counteract this, SPRINZ also offers frameless showers with pendulum fittings and a raise / lower mechanism. In addition, when cleaning your showers, we recommend always rinsing the glass from top to bottom and adding existing profile strips during assembly or not removing them afterwards.
How can I unblock a drain?
Blocked drains are caused by a mixture of soap residue, hair and dirt clogging up the pipe. To prevent this from happening, use a small drain protector and clean it regularly.
Should your drain get blocked despite all precautions, there is still no need to use powerful chemicals. A tried and tested household remedy will be sufficient: bicarbonate of soda (baking soda) and vinegar. To unblock the drain, all you need is five tablespoons of bicarb and a small cup of vinegar. Mix the two ingredients in the plughole and leave to soak for a few minutes. Then rinse with hot water.