Rear panels
Almost endlessly long with just as much scope for design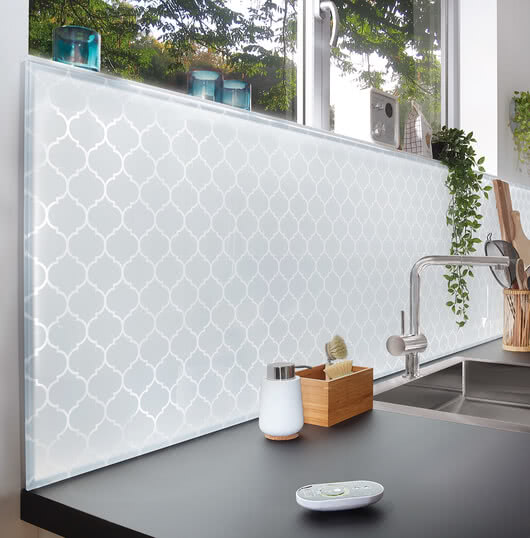 Kitchen rear panel – wide variety of motifs, patterns and textures
The kitchen rear panel is more than a mere splash guard. It allows you to add a special something with different materials, motifs, patterns and textures. Choose between printed glass and elegant porcelain ceramic. Select a vibrant image from the Sprinz Motif World. Or let your glass rear panel shine with LED lighting. The niche is fitted in a single piece without any butt joints with an overall length of up to 4,000 mm. All cut-outs as well as corner and surface cut-outs are incorporated as a custom precise fit. The glass rear wall can be removed again on request thanks to magnetic mounts. There is no need for a silicon seal in this case.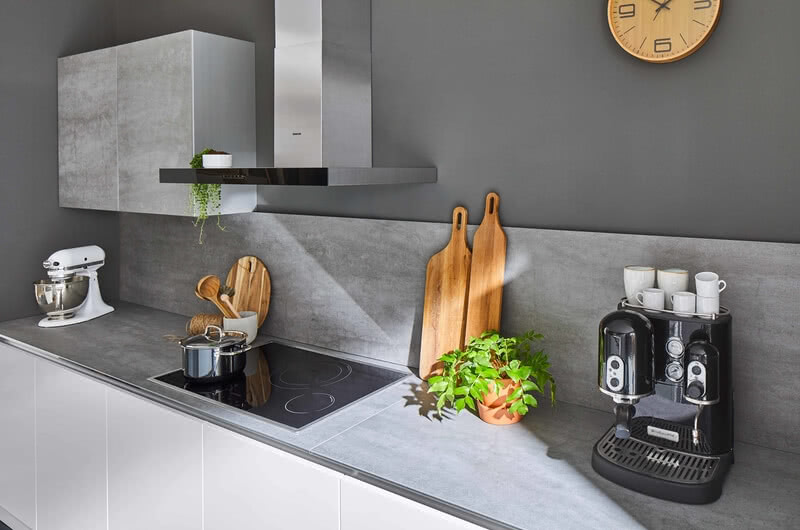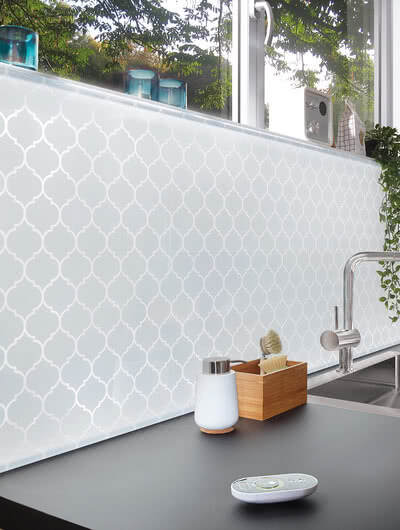 Benefits

Also with LED
This product is also available with illumination

Also with motif
This product can be personalized with a motif

Design
Sprinz products can be variably designed and adapted to personal preferences

made in Germany
Our products are developed and manufactured "made in Germany" in our Sprinz factories with more than 130 years' experience

Tailor-made
Our products are made to order precisely to your specifications

Easy to clean
Special features like flush-mounted fittings or dirt-repellent surfaces
Technical details
Cut-outs for sockets, switches, loudspeakers, smart home display panels and similar

Customised corner and surface cut-outs

Maximum length in porcelain ceramic in glass laminate = 3,200 mm

Maximum length in ceramic screen printing: smooth surface = 3,700 mm, anti-scratch = 3,100 mm

Maximum length in UV digital printing = 4,000 mm

Polished or matt-sanded edges
Glass rear panels with motifs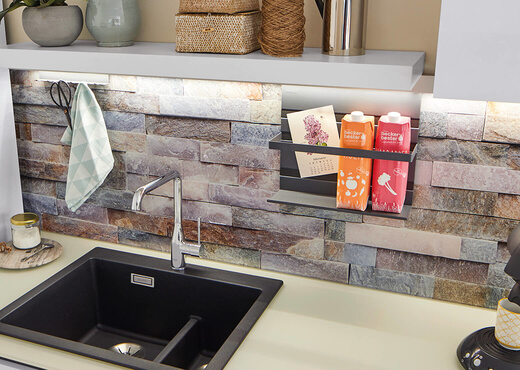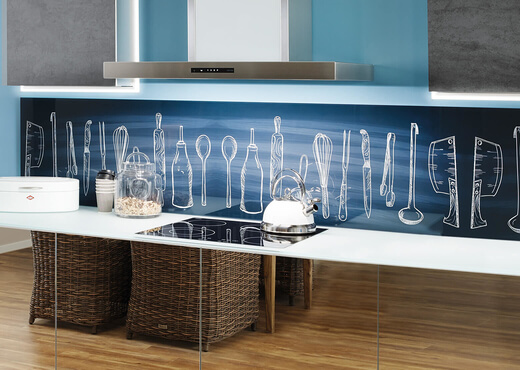 Even more individuality for your kitchen rear panel made of glass: With our UV digital printing, we apply your favorite motifs to your splash guard in the kitchen. Choose your favorite motif from our extensive range. The brilliant print on the toughened safety glass makes the colors shine. Closed surfaces make cleaning easy.

Choose your favorite motif from our extensive online motif catalog. On request, we can also print your individual pictures. High-quality printing processes ensure a perfect look and durability.
Rear panels with LED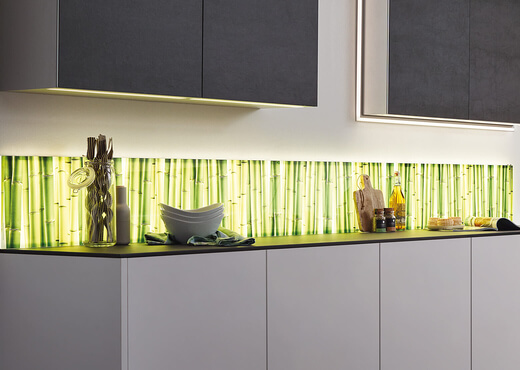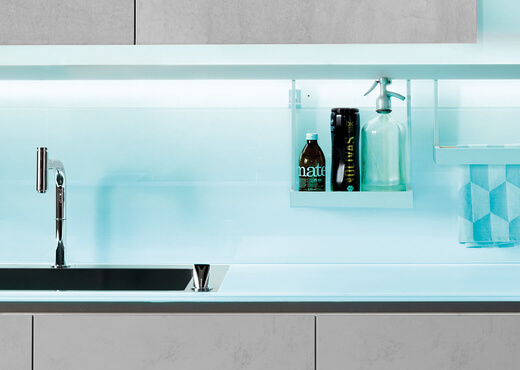 Event kitchen or simply just better lighting for cooking? You can transform your kitchen rear panel into an illuminated image with LED lighting technology. When the LEDs are switched off, it is a conventional rear panel, but when they are switched on, the illuminated image adds a special touch to the room lighting and sets atmospheric accents. The Sprinz lighting panels can be fitted almost anywhere thanks to their customisable size up to 4,000 x 800 mm. Sockets, switches, roller shutter cords and corner cut-outs are custom-fitted exactly to size.

Complete the LED back wall with a motif from our online motif catalog. On request, we can also print your individual pictures. High-quality printing processes ensure a perfect look and durability.

The LED rear panel can be configured to match the current mood with a changing colour range (RGB), mix white (MW) or a single colour, regulated by the remote control or app controller. Thanks to a long service life, LEDs are durable and save much more energy compared to conventional lights.
Colour selection

Cold white

Neutral white

Warm white

Mixed-white

RGB
Motifs

Add another special accent to your kitchen besides radiant RAL CLASSIC colours: vibrant, photo-realistic motifs are not only a real eye-catcher, but also give the kitchen your individual touch. Choose your favourite motif from our extensive online motif catalogue. We can also print motifs from individual templates on request. High-grade printing methods ensure a perfect visual effect and a long durability.
More
RGB-RGBW LED WI-FI CONTROLLER

In addition to the optional remote control, the LEDs can be controlled via a Wi-Fi controller on an app on a smartphone or tablet. With the Magic Home app, you can also activate the controller when you are out and about thanks to the remote function. It can be operated both as a standalone device and as a subordinated device in a home network. Several controllers can be brought together in groups and be activated individually or in synchronisation. You can use the app to manage light colour, brightness and individual colour gradients and determine the speed and type of colour change. You can download the Magic Home app free of charge from the Apple App Store (iOS 6.0 and above) and Google Play Store (Android 2.3.3 and above).
Kitchen rear walls with porcelain ceramic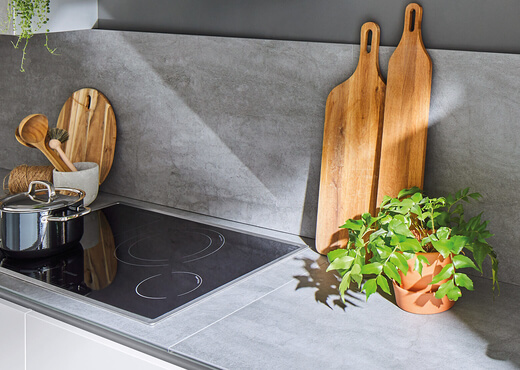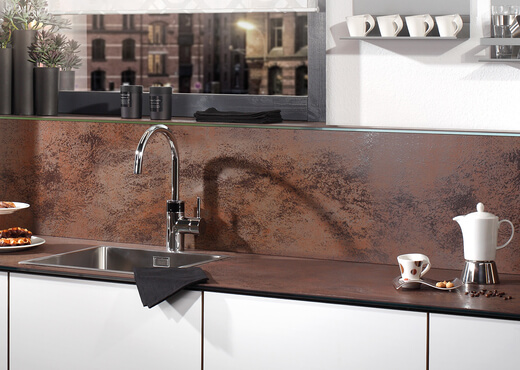 You can create very special kitchens with the six available exclusive Sprinz surfaces. The porcelain ceramic in glass laminate is harder than granite, as light as aluminium and can be custom-finished. Rear panels are manufactured in a single piece up to 3,200 mm in length. Cut-outs for switches, sockets and similar are custom-adjusted.
The surface is abrasion-resistant and scratchproof. The closed surface does not absorb any moisture and is hygienic and easy to clean. Porcelain ceramic is heat-resistant, UV-resistant and an environmentally friendly, recyclable natural product.
Colour selection

Oxide Nero

Oxide Moro

Oxide Perla

Pietra di savoia antracite

Pietra di savoia grigia

Pietra di savoia perla
+

Parsol

White glass

Float (Clear glass)
Coloured glass rear panels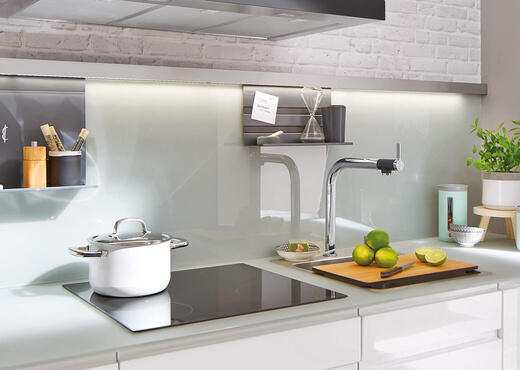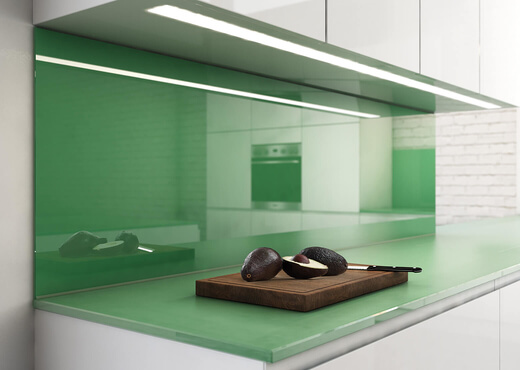 Colourful contrast or harmoniously matched: a rear panel made of toughened safety glass is transformed into a design element in kitchen layouts. Radiant colours based on the RAL CLASSIC colour standard and photo-realistic motifs set the mood and create a magical atmosphere in your kitchen. All prints are UV-resistant and are located on the reverse surface of the glass.
The glass surface is closed, making it hygienic.
Colour selection
Regular delivery period (4 weeks)
Other colours...
... can be ordered freely from the RAL CLASSIC colour system with a longer delivery period. Sample compulsory (at extra cost).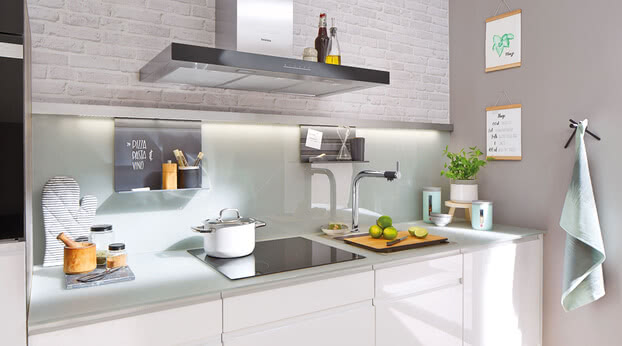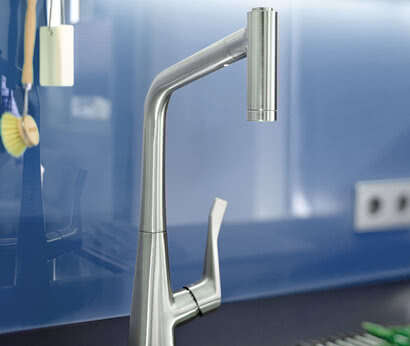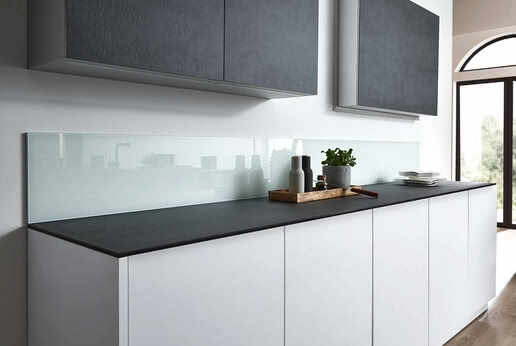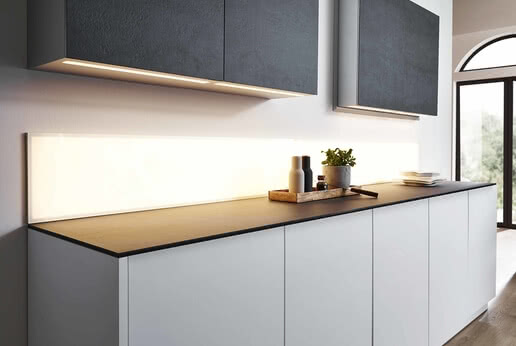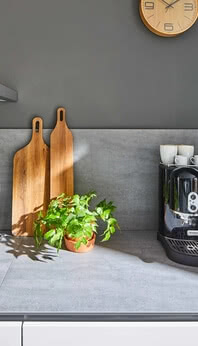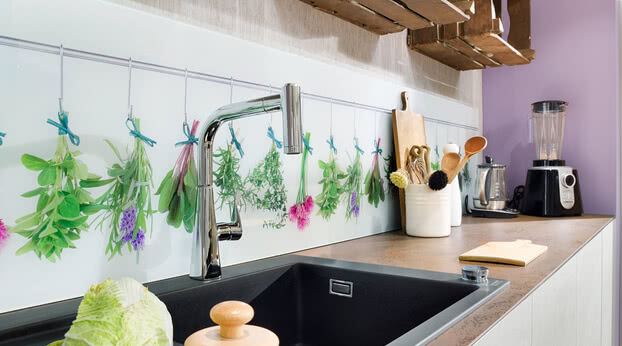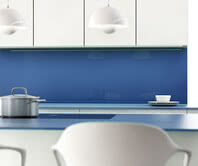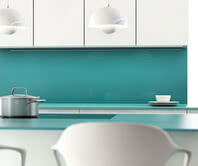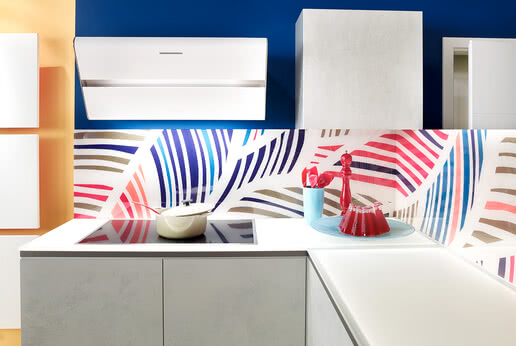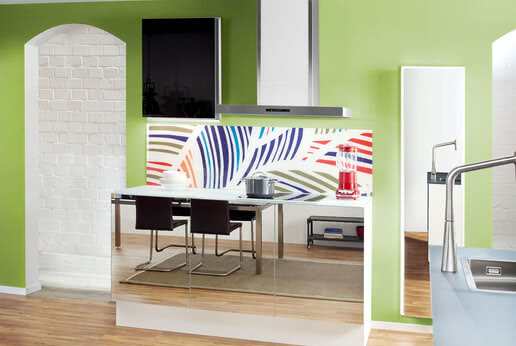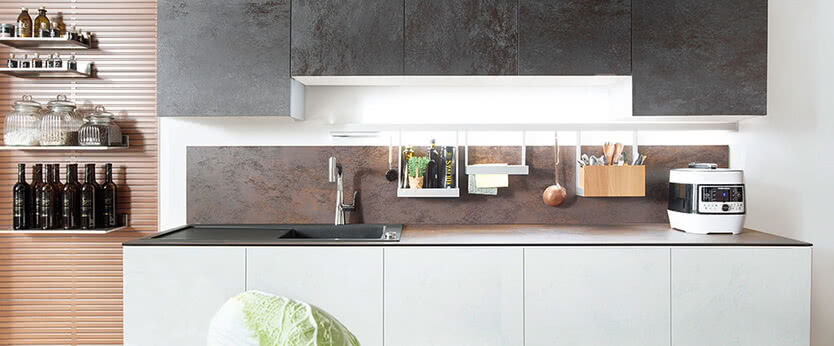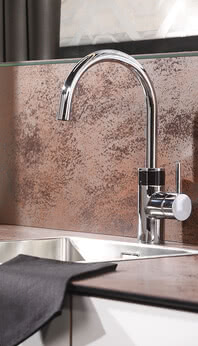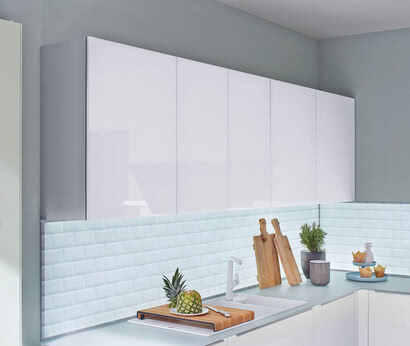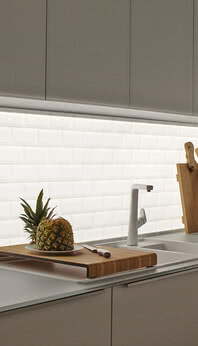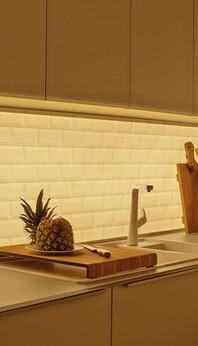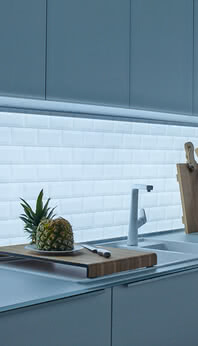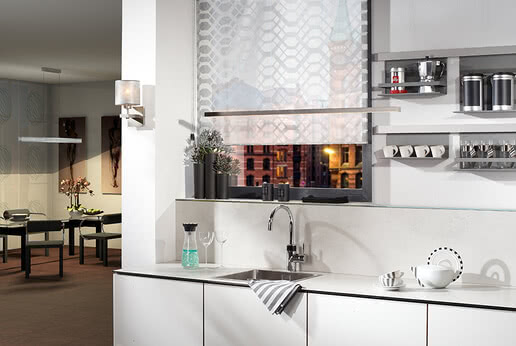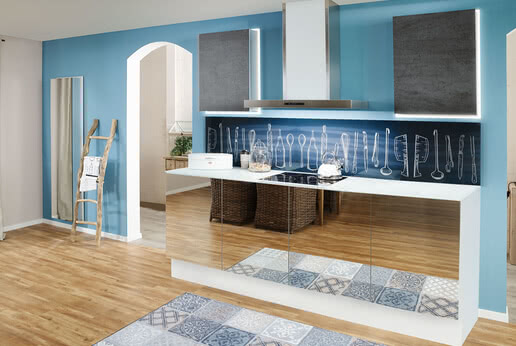 Product information
Installation instructions: