Care tips for a glass privacy screen
Care advice for SPRINZ privacy screens, balcony glazing, sliding systems and canopies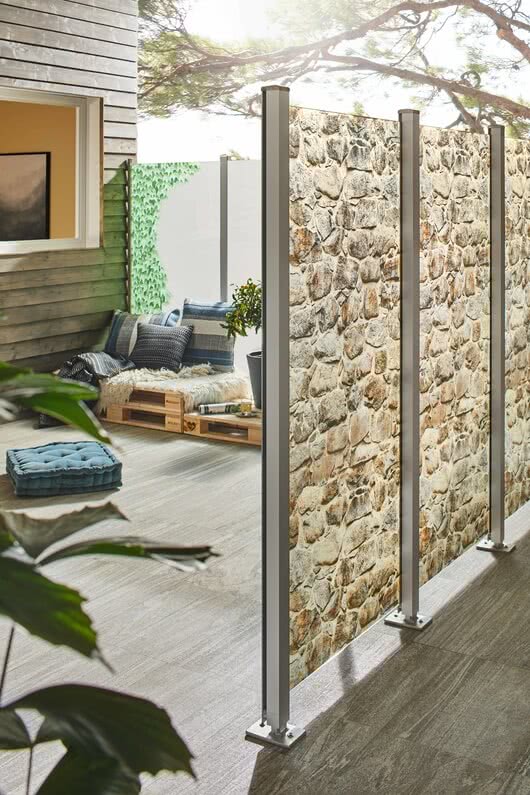 How do I clean my glass privacy screen?
Our products are made of high-quality materials, so that they are not only sustainable but also durable. Our ceramic paints are highly stain-resistant to grease and dirt. In order for glazing in the garden to look beautiful for a long time, it nevertheless needs to receive regular care. Any dirt on fired screen and digital prints should be removed straightaway.

On this page you will find the most important tips and tricks for cleaning and caring for glass in outdoor areas.
General care tips for outdoor areas
Make sure you keep any aggressive dirt away from the glass while construction is in progress. However, if it does happen, whoever caused it must wash off the dirt as soon as it has appeared, using non-aggressive products, without leaving any residues. Concrete and cement grouts, in particular, are highly alkaline and will cause caustic burns on the glass (cloudy appearance) unless they are washed off immediately with plenty of water. Dusty and granular deposits require professional removal and must never be removed while dry.

For subsequent care, it is usually sufficient to clean both the glass side and the printed side with plain, clean water to prevent the dirt particles from causing scratches. In most cases it is sufficient to hose down the glass with water. Grease and organic stains can be removed with standard soap (alkaline) solutions. Avoid any contamination from oil, fat, silicone and other low-viscosity substances.
Any marks caused by weather conditions should be removed with water, followed by an alkaline solution. Lime deposits can be removed with a standard glass cleaner. Never use any corrosive chemicals.
Apply the cleaning solution with a clean sponge or cloth. Pointed, sharp metallic objects (such as blades and knives) can cause damage to the surface, leaving behind scratches, and are therefore unsuitable.

Here's a summary of the most important tips:
Clean all surfaces regularly. The older the dirt, the more difficult it is to remove.

Use a soft sponge, chamois leather cloth or squeegee on all surfaces.

With a damp cloth, proceed in broad, sweeping movements, and apply only slight pressure.

Do not use aggressive cleaning products or vinegar essence, and under no circumstances should you use cleaning products with abrasive substances.

You can hose down the glass with water on both sides.

Avoid marks caused by oil, fat, silicone and other highly viscous substances, as they may be difficult or impossible to remove without leaving residues. Avoid any soiling from concrete or cement grout, as they will cause burns on the glass.
FAQs care tips exterior
How often should I clean glass?
To keep your glass sparkling for as long as possible, it needs to be cleaned regularly, following the principle: the more often you clean, the less time it will take.
How can I avoid lime stains?
If the water in your household contains a lot of limestone, we would recommend using distilled water for cleaning your glass.
If lime stains do appear, however, you can remove them with a weak solution of water and vinegar. You can also prevent lime deposits by wiping the glass dry afterwards.
How can I avoid cleaning marks?
If possible, use lime-free water, and do not dry or a clean the glass with paper towels. We would recommend using a squeegee.
How can I avoid scratches on glass?
If you apply too much pressure during cleaning, you rub fine dust particles across the glass, which may leave scratch marks. To prevent this from happening, make sure you use a cloth that is as damp and soft as possible.
What are the best products for cleaning glass?
Only use mild cleaning products, e.g. a few drops of washing-up liquid. Plain water is usually sufficient.

However, never use scouring agents, steel wool, cleaning products with abrasive additives, agents containing vinegar, citric acid or any other chemicals, as they may cause damage to the surfaces.