Kitchen World Motifs
For glass rear panels in kitchens and graphic elements for kitchen fronts and rear panels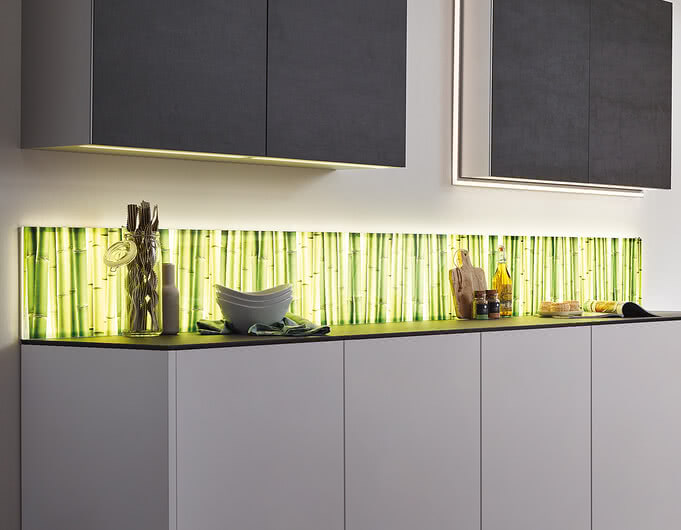 Vibrant rear panels and front surfaces in your kitchen
Add another special highlight to your kitchen besides radiant RAL CLASSIC colours: vibrant, photorealistic motifs are not only a real eye-catcher, but also give the kitchen its individual touch. Choose your favourite motif from our extensive online motif catalogue. We can also print motifs from individual templates on request. SpriColor UV digital printing produces a perfect, long-lasting look. The maximum glass size for a kitchen rear panel in SpriColor UV digital printing is 4.000 x 1.600 mm.

SPRINZ prints side elements or front surfaces on island units for customised dream kitchens. Three-dimensional effects, linear designs with fine pen strokes and floral designs in colour or black and white: the new SPRINZ motifs have one thing in common: they feature an exclusive design and are only available from the manufacturer. You will not find these decorative designs with any other providers and certainly not from any online shops. We create customised kitchen rear panels, doors and front surfaces you will not find anywhere else.
Kitchen utensils and foods



























Detail shots and decorative designs





























Metropolises and sights










Nature Landscape


































Graphic patterns for kitchen rear panels and front surfaces
















Scaling & Cut-outs
Select your favourite patterns from our SPRINZ motif collection. Cut-outs can be made of any pattern by indicating the x and y coordinates. We will be glad to assist with your questions on individual cut-outs and scaling.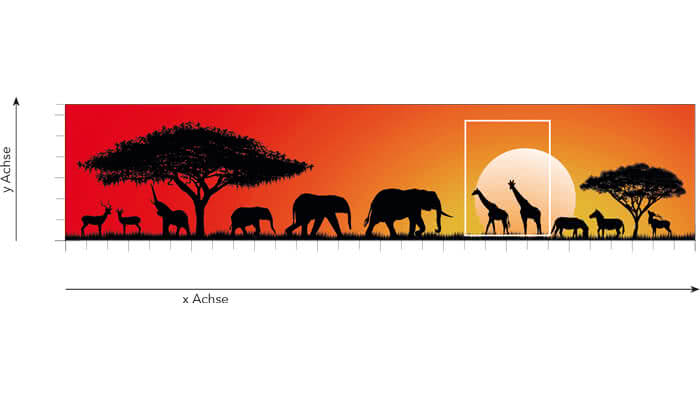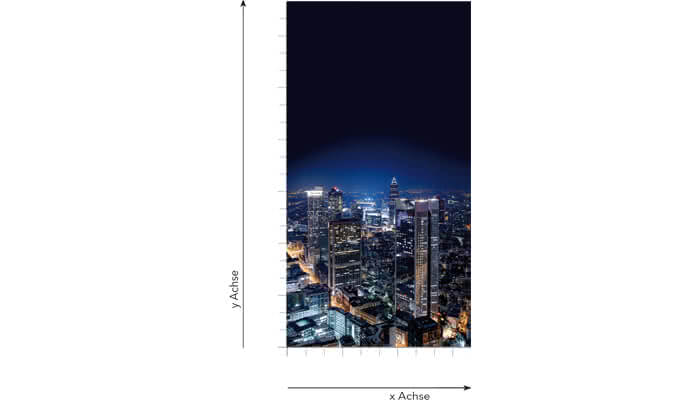 Photo databases
As an alternative to our patterns, you also have the option of finding the right motif for UV digital printing in a photo database. When selecting a motif, please make sure that the image format fits the format of your rear panel. A panorama image is perfect for a long and narrow rear panel, for example, but is not suitable for square print areas. Also, not all patterns can be enlarged as desired.

How to select an image from a photo database:
Access one of the known image databases in your web browser.

Enter a search term.

You can narrow the results by using specific search options, e.g. by applying the search filter with the "Panorama" options for kitchen rear panels.

Select your chosen image and change the dimensions from pixel to cm.

Take the largest dimensions and multiply them by 3. This gives you the maximum print size of your image. (For best results we need a resolution of at least 100 dpi in the original size.)