Rail system
Beautiful, useful kitchen helpers
Rail system with glass shelf
The Sprinz kitchen rail fully impresses with its design and function: The rail complements kitchen furniture perfectly with lengths between 700 and 2,380 mm in matt aluminium and with LED lighting. It provides additional light and storage spaces and puts useful little kitchen helpers, such as knife blocks or kitchen roll holders, on display where they are ready to use. The rail itself is equipped with a multiple socket outlet as standard, containing a power socket, a USB charging socket and a micro-knob switch.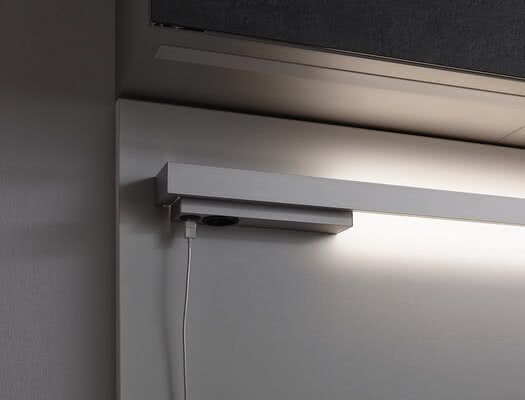 Rail system with glass shelf
The rail provides a practical glass shelf with integrated LED lighting, a power socket, a USB charging socket and a micro-knob switch.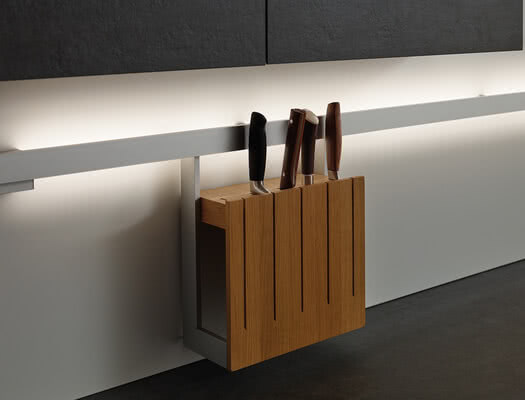 Knife block
Practical elegant wood knife block for five knives with holders made of matt aluminium. The block is attached to the kitchen rail and is simply moved along when needed.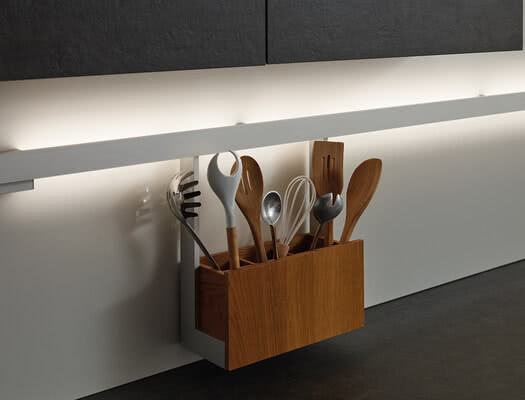 Spoon holder
The spoon holder can also put knives, forks or other eating and cooking utensils on display where they are always at hand. Hand-crafted in wood, the holder features spacious
compartments. The holder is fastened with brackets in matt aluminium.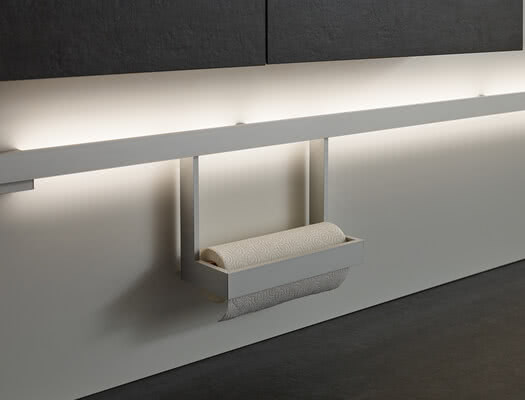 Kitchen paper dispenser
Always ready for use when you need to wipe clean. The aluminium dispenser is positioned on the rail where it is needed.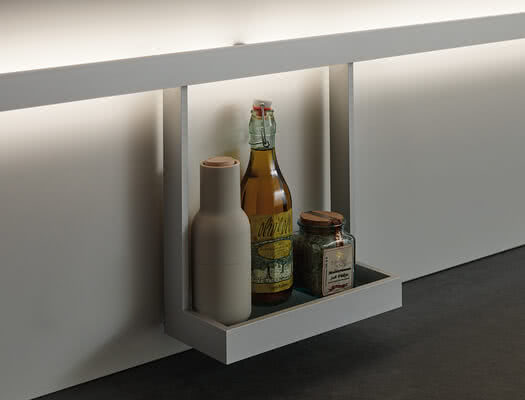 Shelves
Quickly put things aside, or store herbs and spices ready at hand. The glass or wooden shelves are available in two lengths. A small raised edge ensures items are safely held on the shelf surface. The shelf is held by a matt aluminium support.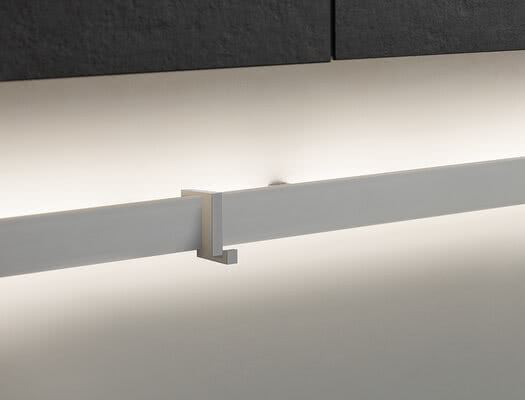 Hooks
The hook provides additional space for holding individual items. You can hang ladles, wooden spoons or spatulas on one of the hooks, ready for use.
Product information
Installation instructions: