Insulating glass
Spritherm is a multi-functional glass that satisfies any requirement. With Spritherm, SPRINZ offers state-of-the-art quality products.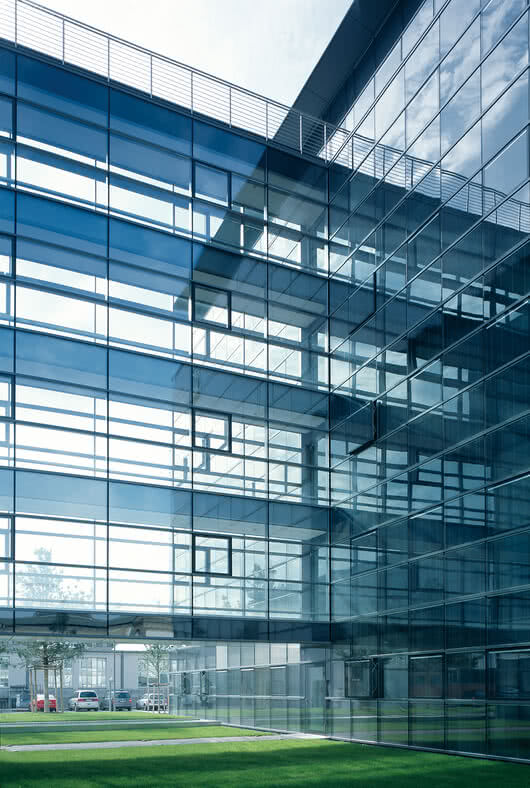 High-quality insulating glass by Sprinz
We can no longer imagine modern architecture without glass as a design element. Sprinz insulating glass delivers everything we want for our home and workplace: It controls light and sun, preserves warmth, locks out noise and gives protection and safety. Spritherm is a multi-functional glass that satisfies any requirement and offers state-of-the-art quality.
Spritherm with Superspacer
Probably the best combination of high-tech glass and edge seal system

If you need your insulating glass to deliver top performance, trust in the high-tech glass Spritherm® with its different coatings and enjoy the best connections. Because Sprinz extends the portfolio of edge seal systems in aluminium, stainless steel, Thermix®TX.N® or TPS® by adding another edge seal system with top ratings:

SUPER SPACER® is the first metal-free spacer system worldwide made of structural foam with integrated desiccant. The structure contains an improved, multi-layer moisture barrier, which keeps moisture out and keeps the gas within the insulated glass unit.
Heat insulation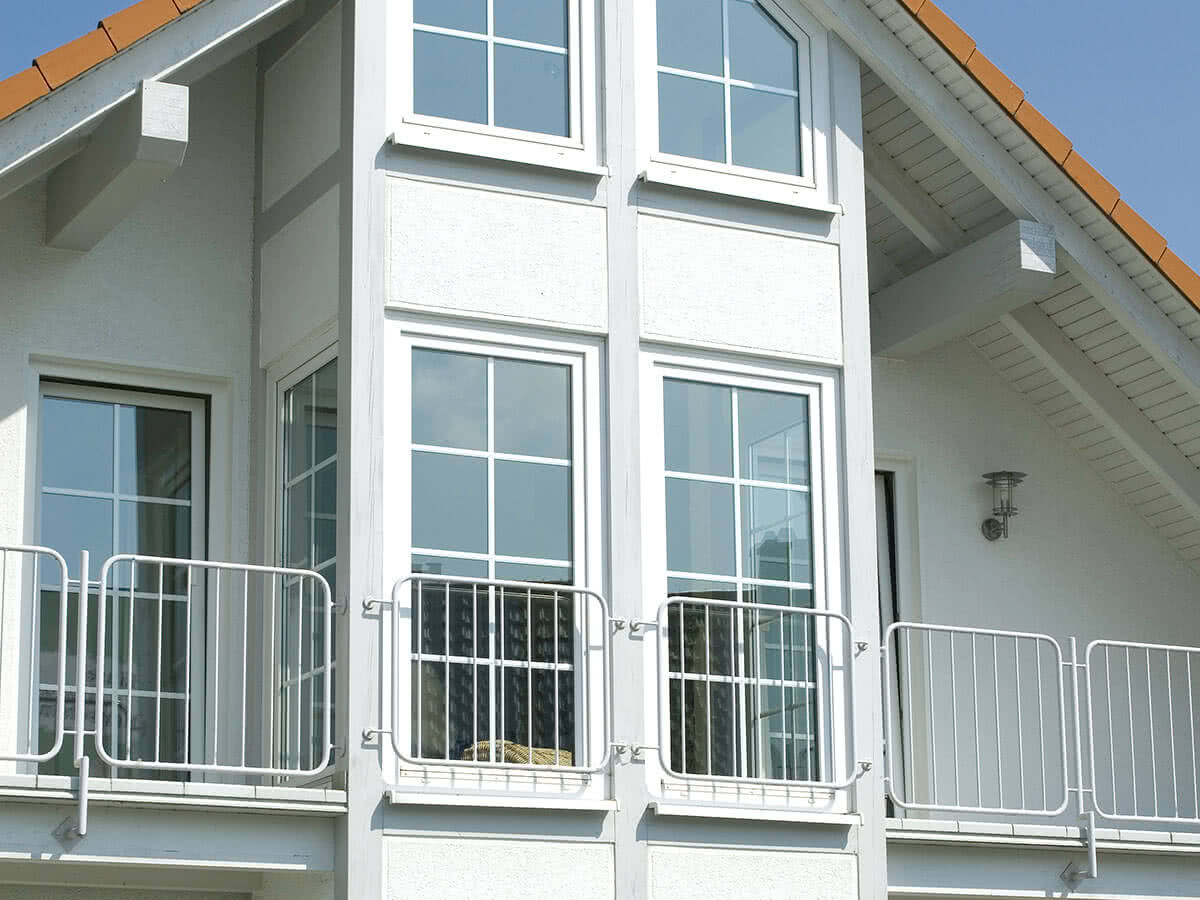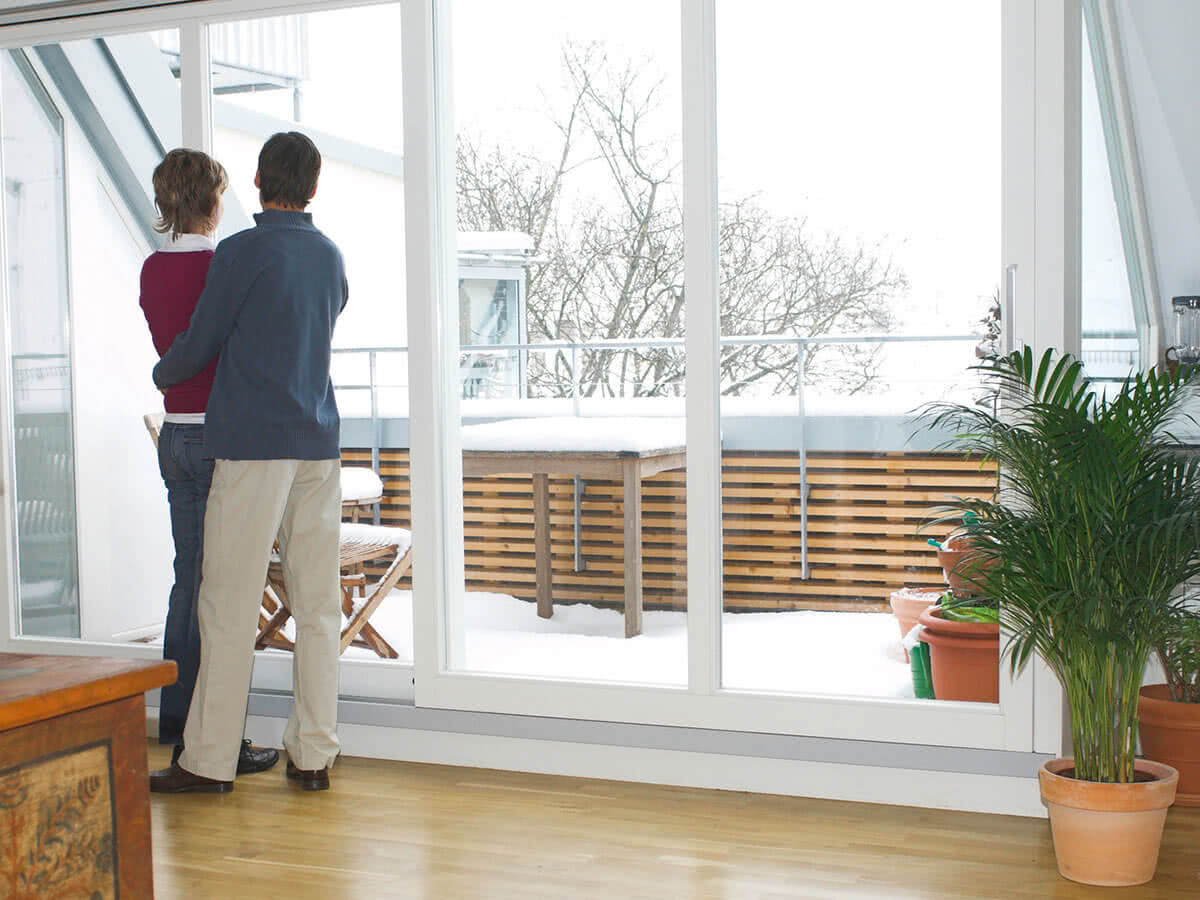 SPRITHERM PLUS S/PLUS S P

See the cold – feel the warmth.

A basic requirement of any modern construction glass, in addition to transparency with clear views, is heat insulation. Legal specifications on the one hand and physical construction requirements on the other have turned window glass as it was used 30 years ago with Ug-values of 6,0 W/m2 K* into a high-tech product. SPRITHERM PLUS S with 1,1 W/m2 K* today documents the glass standard every window needs to have – particularly those older than 12 years.

Sprinz offers not just glazing for today but for tomorrow as well. With SPRITHERM PLUS S P and a Ug-value of up to 1,0 W/m2 K* or with SPRITHERM TOP S with up to 0,5 W/m2 K* – the transparent wall.
Soundproofing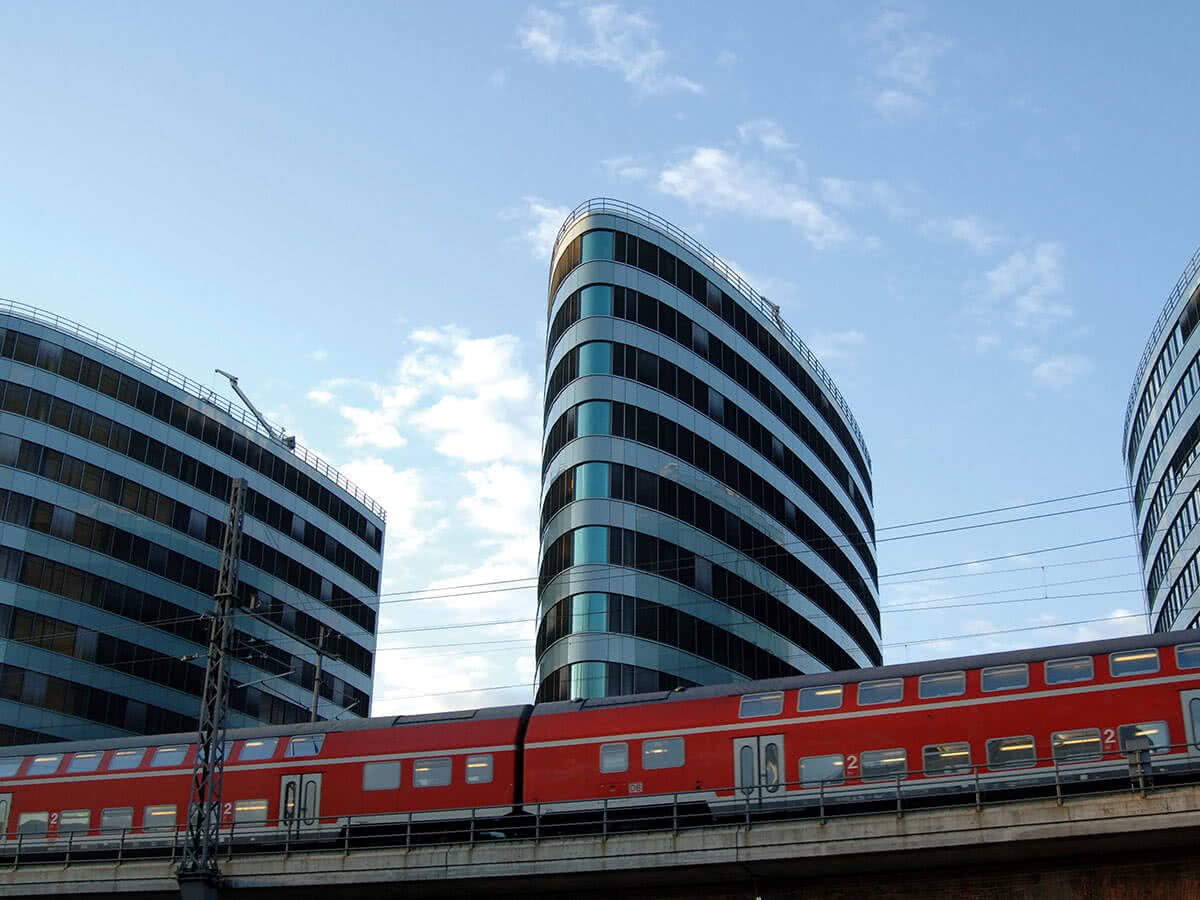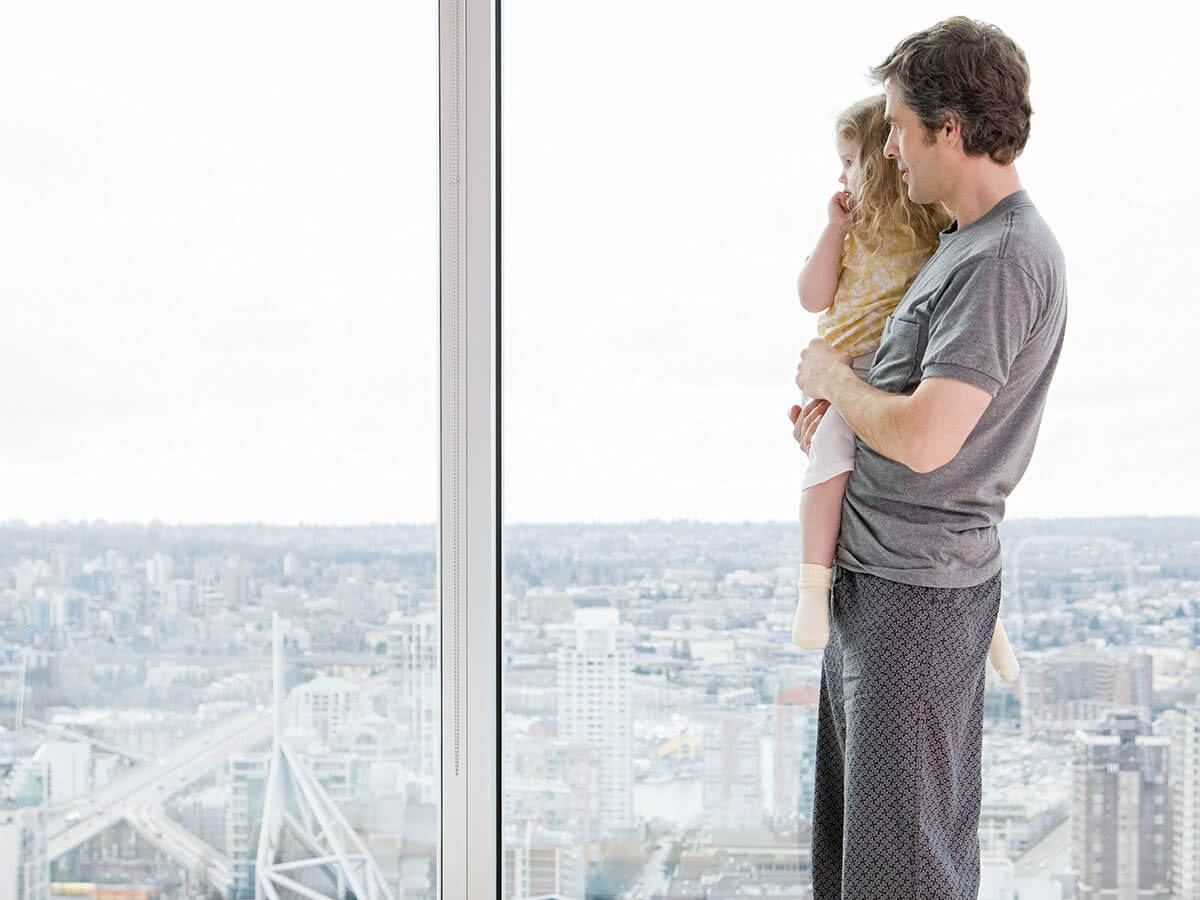 SPRITHERM
PLUS S-WS/S P-WS

Transparent oases in a noisy world.

Progress and mobility in our modern age produce not just benefits but also a world that keeps on getting louder. What greenhouse gases are for the natural environment, ever-increasing noise pollution is for human beings – it makes us ill. One in six German citizens is already suffering under permanent noise of 65 dB and more.

The modern soundproofing building glazing SPRITHERM PLUS S-WS is the ideal solution. A solution that allows for generous glazing on buildings while locking out the noise of the outside.

The range of noise protection extends, depending on structure and type, from 36 to 50 dB* with optimal Ug-values of up to 1,1 W/m2 K*. It should be noted that 10 dB of noise reduction are subjectively perceived by the human ear as half the noise. This is why Sprinz' wide soundproofing glass portfolio offers the right solution for every requirement!
Safety glass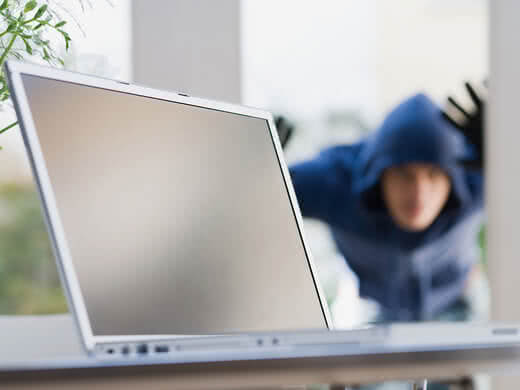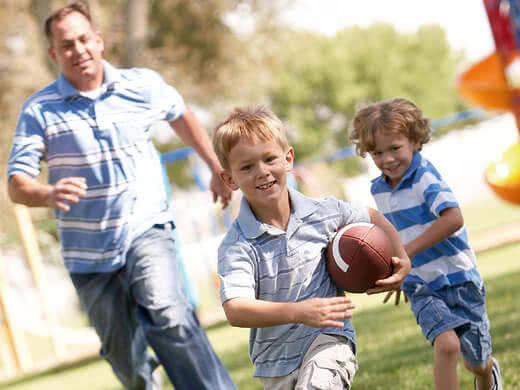 SPRITHERM Plus Safe

Clear facts for life and values.

Nothing unusual: Floor-to-ceiling, room-width terrace glazing and absolutely natural: children and "grown-ups" playing ball and not paying attention. This is not a horror scenario but the real world, and SPRITHERM PLUS SAFE by Sprinz gives you the safety you need.

Even when the ball or a child's body makes contact with the large glass wall: Nothing happens. And even if, against all odds, the stress does become too great for the pane, it breaks without spraying dangerous shards of glass. Either thermal finishing processes ensure that a break produces only dull-edged crumbs (ESG), or the pane is equipped with a film that traps splinters (laminated safety glass). So even a glass breakage is not dangerous!
More
Sun-protection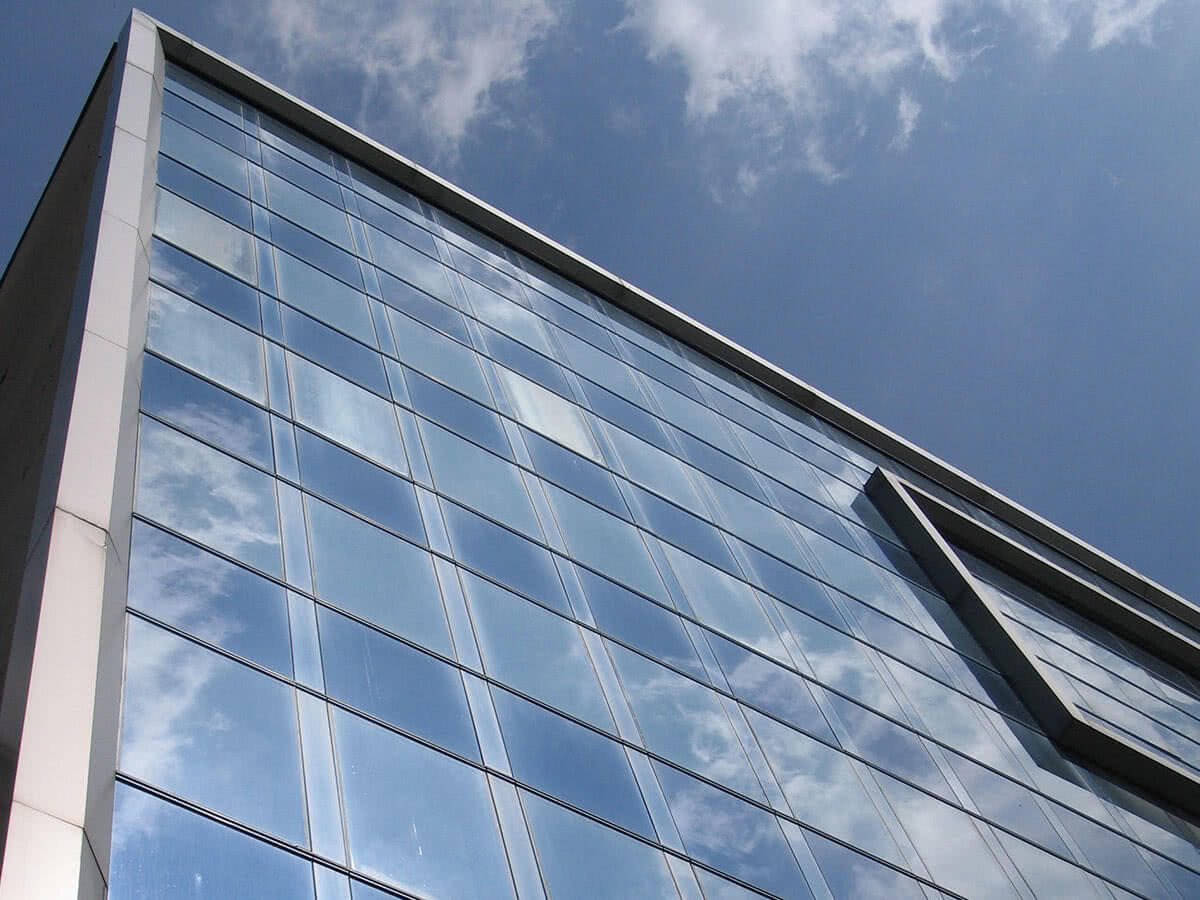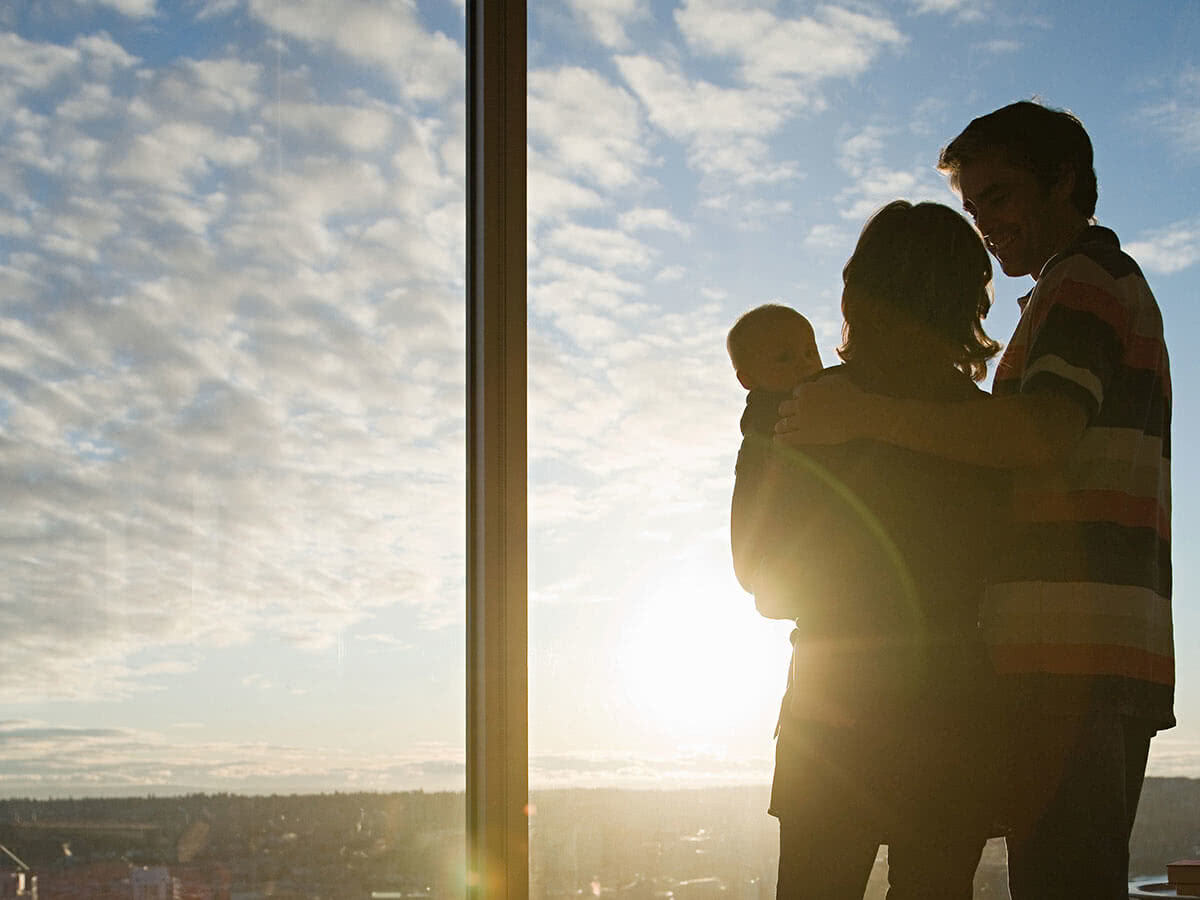 SPRITHERM SOL

Generous transparency with intelligence.

Living and working with and within nature are becoming highly popular these days because of the current technical possibilities for large-surface glazing. It is important to remember, however, that in addition to all the light that enters through the glazing, solar radiation also delivers lots of energy to the room, which, because of the heat-insulating properties of modern glass, cannot escape.

This is why the functional insulating glass SPRITHERM SOL by Sprinz provides a variety of glass types with sun protection properties. They let in lots of light, yet invisibly "block out" the heat energy. The crucial factor in all sun protection glazing is the relationship of light, warmth and energy permeation.

The heat values are about 1,1 W/m2 K, the light rating is between 40 and 65%* and the energy value, the so-called g-value, is 20 to 60%*.
Shading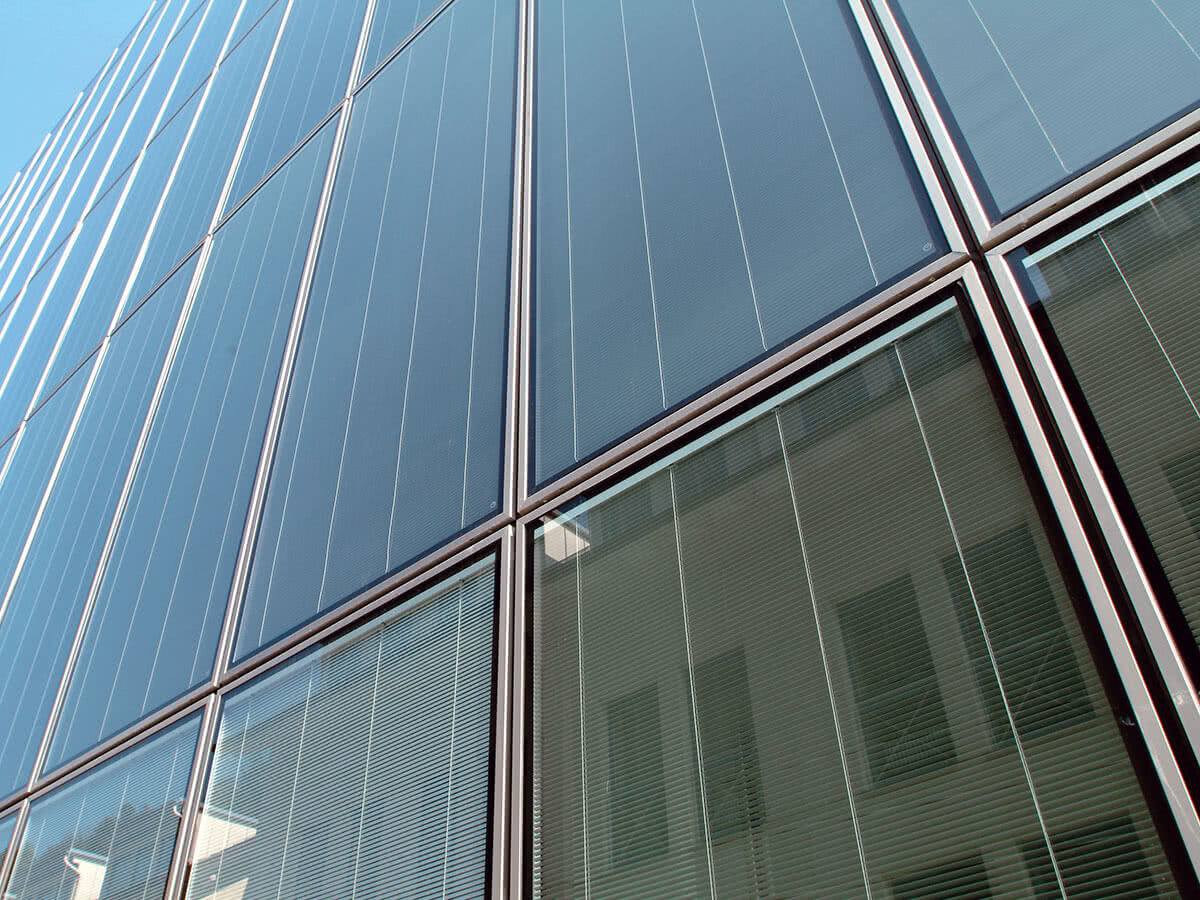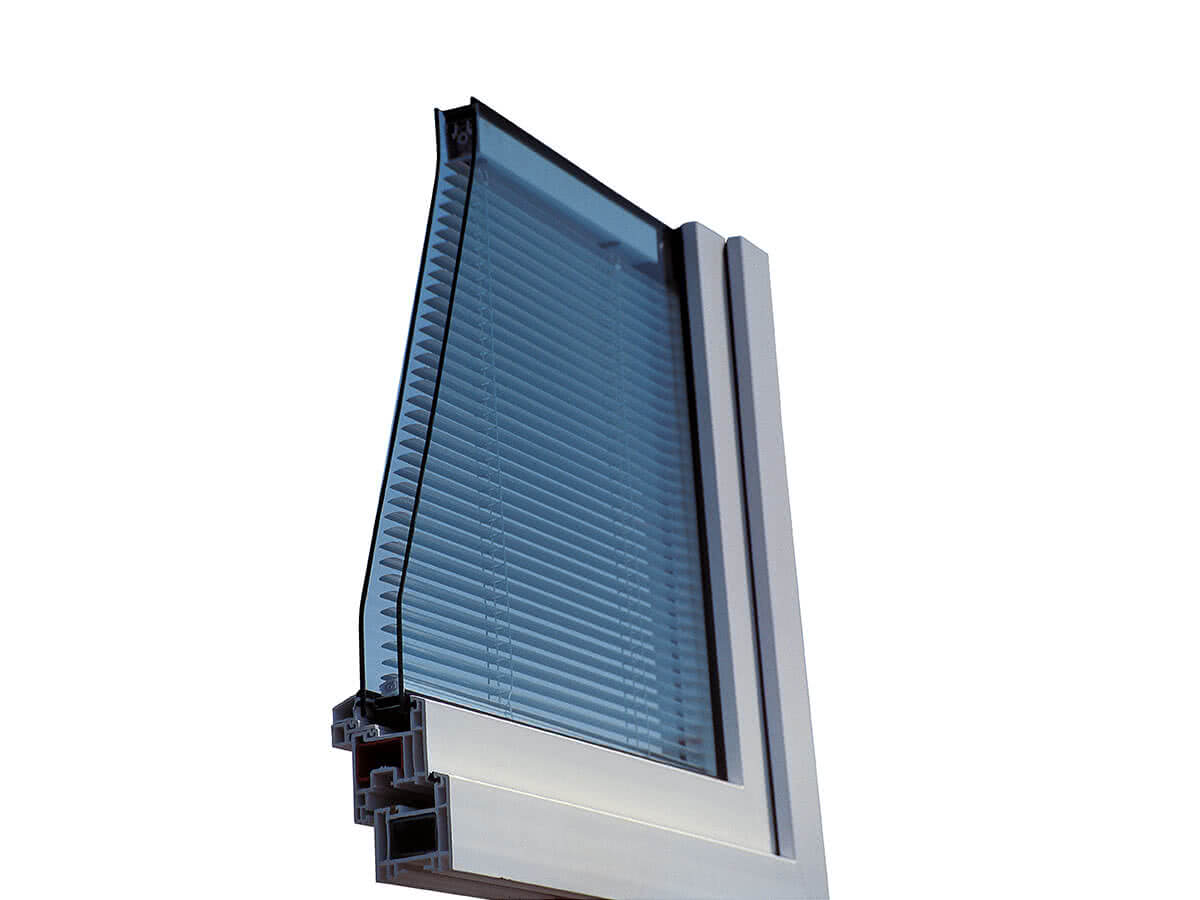 SPRITHERM SCREEN

Transparency with light and shade.

For applications were sun protection glass is not desired or additional complete shading is needed, SPRITHERM SCREEN by Sprinz is the ideal solution. High-quality slats or foils, connected by sophisticated but very reliable technology, let you open and close a "curtain" within the insulating glass. Of course, the angle of the slats can be adjusted depending on the angle of the sun. This can be done manually or electronically.

An ingenious idea, because the insulating glass shade has enormous benefits compared to commonly used shades.
Self-cleaning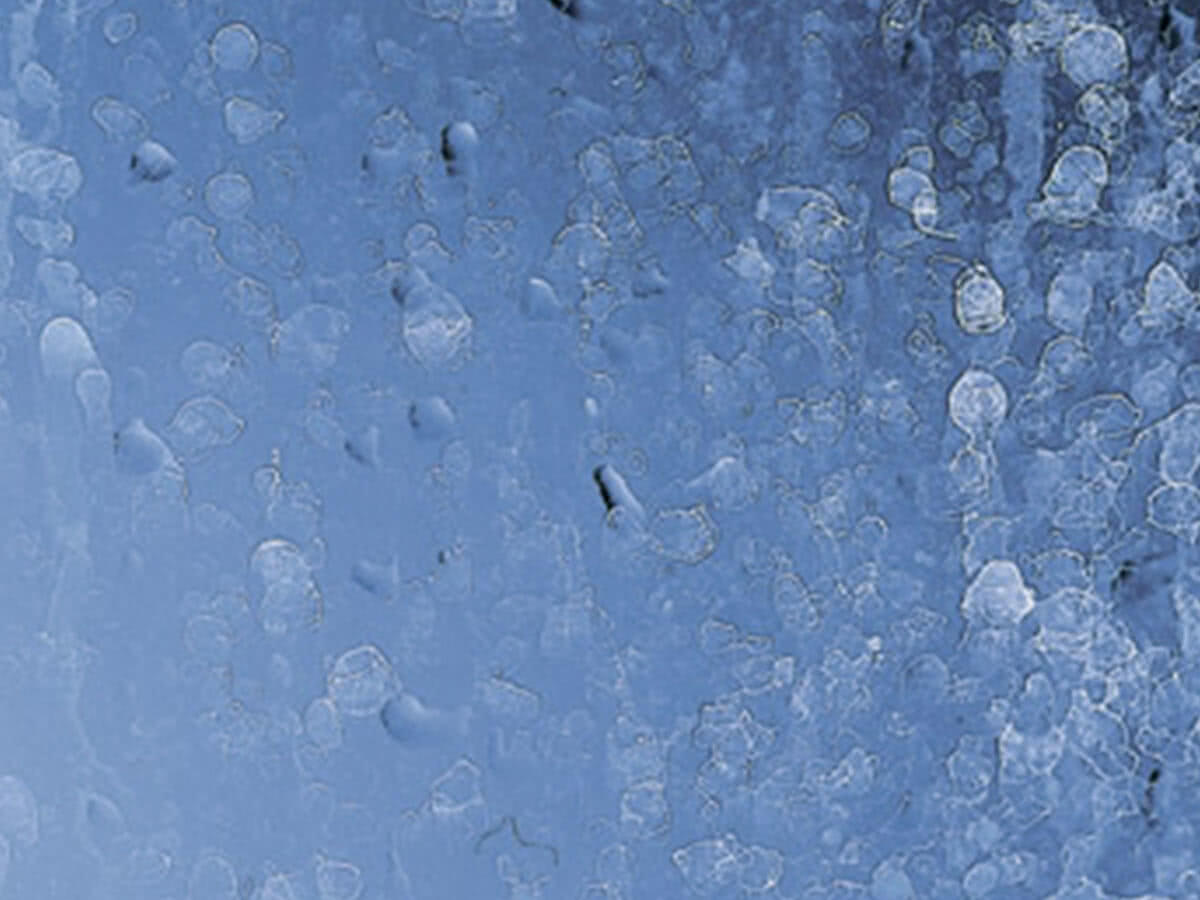 SELF-CLEANING

Cleaning windows with sun and rain
Self-cleaning

The latest achievement of modern building glazing is the permanent, invisible self-cleaning effect on the outer pane. The innovative aspect is that it functions for the entire life cycle of the glass and the fact that the self-cleaning mechanism uses both the UV radiation of daylight and rain. UV radiation breaks down organic dirt that settles on the glass, and the next rain washes it away. The self-cleaning glass by Sprinz makes a long-standing dream come true – having to wash windows much less often, at least from the outside.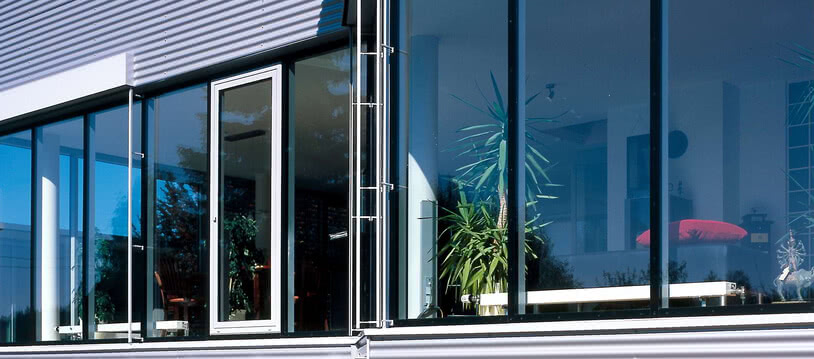 Sprinz insulating glass delivers everything we want for our home and workplace: It controls light and sun, preserves warmth, locks out noise and gives protection and safety.

Glass stairway and balcony railings are becoming increasingly popular in architecture. Transparent glass makes everything look bigger.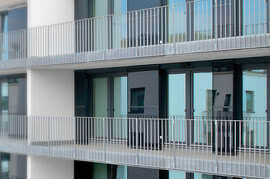 Façade glazing for rooms bathed in light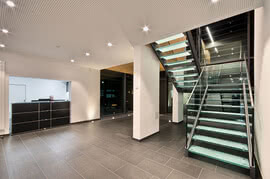 Walk-on glazing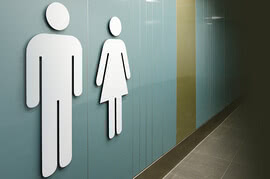 Toilet partitions, sanitary and dressing rooms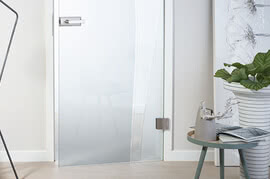 Glass doors, sliding doors and partitions

Canopies, balcony systems, privacy screens or post systems are available in our Exterior section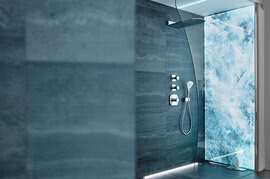 Favourite motif or pattern as design element