Accessories for our SPRINZ showers
Accessories such as glass shelves or towel rails for your dream shower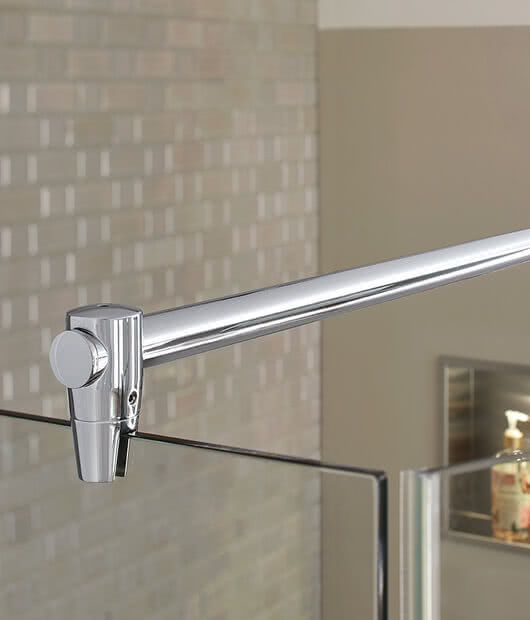 Accessories for your dream shower
SPRINZ accessories for glass showers are made from tried-and-tested materials in various finishes, ranging from aluminium in matt silver to high-gloss chrome and a wide variety of sanitary colours. They are perfect helpers to complement your comfortable bathroom. Flush-mounted towel rails attached directly to your shower for easy cleaning or additional glass shelves in a flawless design for an elegant look are long-lasting details that you will keep on enjoying day after day. Sturdy glass shelves made of toughened safety glass in clear crystal or satinised glass provide convenient storage spaces and are available in two different shapes. You can combine these with square, spherical or cylindrical brackets to match your fittings and door handles. We finish the glass surface with SpriClean® on request. This means water, dirt and limescale roll off with greater ease.
Stabilizing bars and glass fins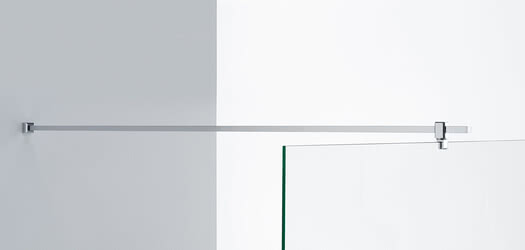 Square stabilizing bar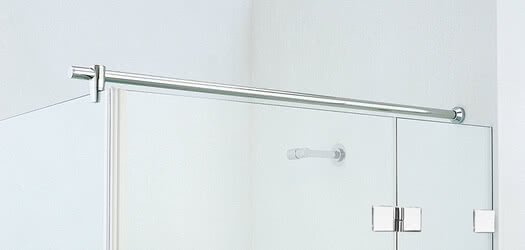 Round stabilizing bar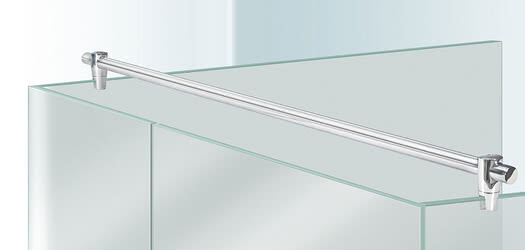 Round stabilizing bar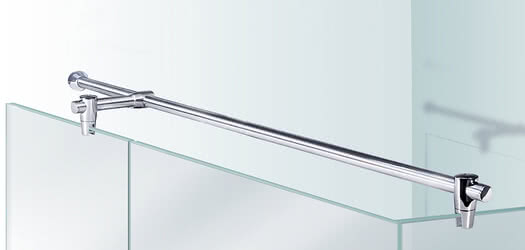 Round stabilizing bar with T-piece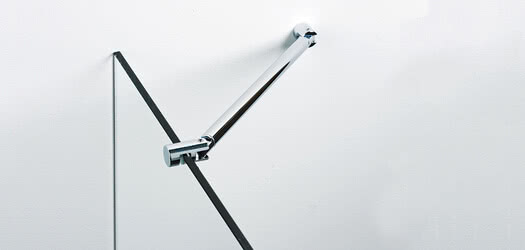 Joint rod, round
Also available in square design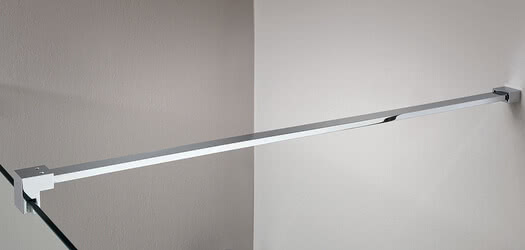 Stabilizing bar ColorStar
Chrome, also available in EV1
Glass-wall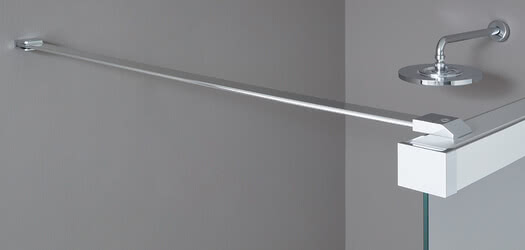 Stabilizing bar Tansa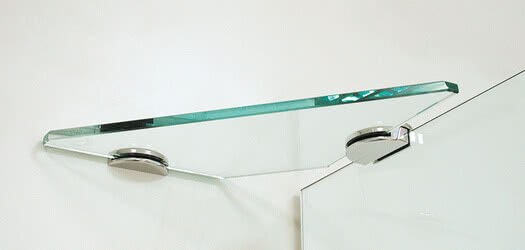 Glass fin
A discreet glass fin for stability
Z-bracket and plexi semicircular rod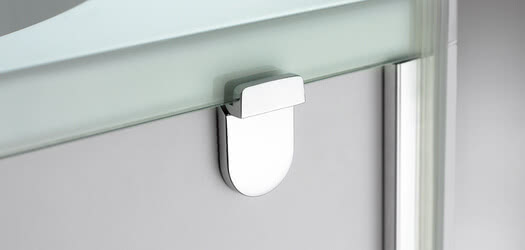 Z-bracket
Z-bracket for bathtub connection, magnetic holder profile as stopping point for glass doors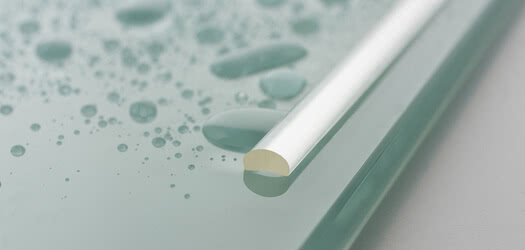 Plexi semicircular rod
The plexi semicircular rod provides better sealing
Towel rail and handle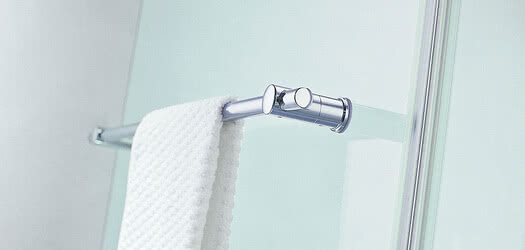 Vario towel rail, round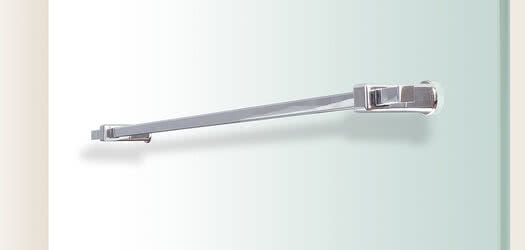 Vario towel rail, square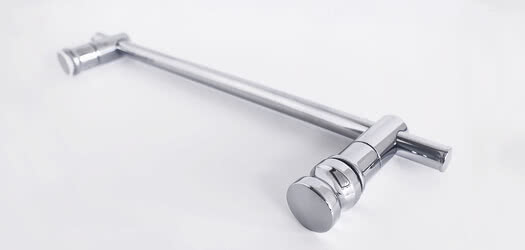 Vario towel handle, round
Combination of Saphir handle (outside) and Vario towel rail round (inside)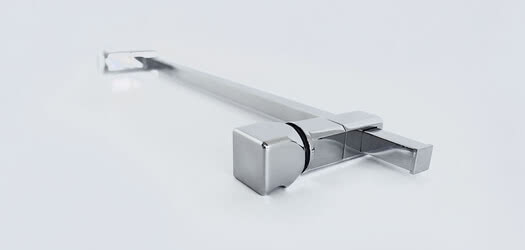 Vario towel handle, square
Combination of Rubin handle (outside) and Vario towel rail square (inside)
Glass shelf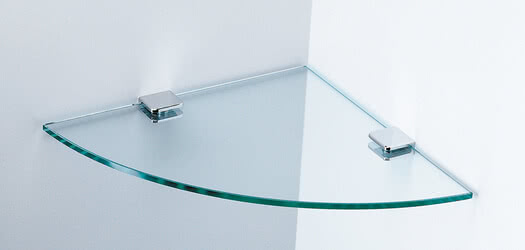 Glass shelf, round
Glass shelf, round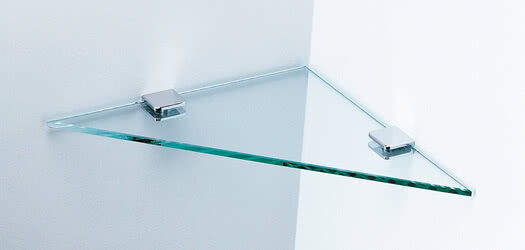 Glass shelf, triangular
Glass bracket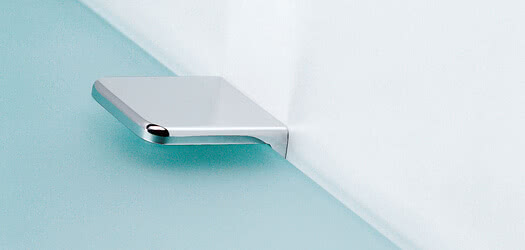 Glass bracket, square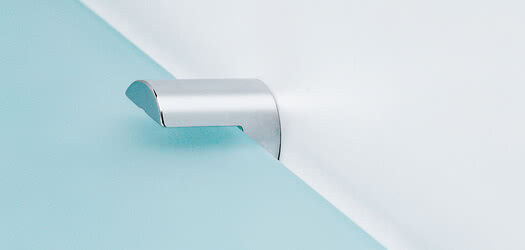 Glass bracket, cylinder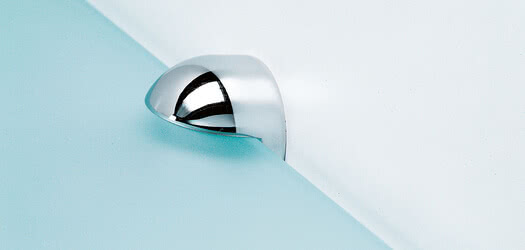 Glass bracket, cylinder
Care products
With the cleaning agents and care sets developed by SPRINZ, you can clean your glass shower perfectly. The ingredients of the cleaning agents are tailored to our products and their surfaces and maintain the glass without damaging it.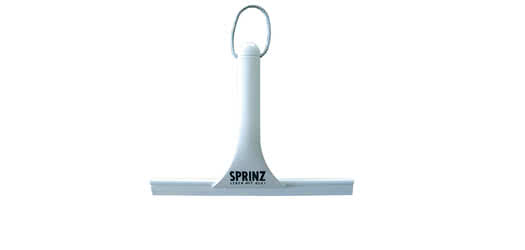 Squeegee
After a shower, use our squeegee to wipe down the glass panel with perfect ease, preventing limescale and dirt.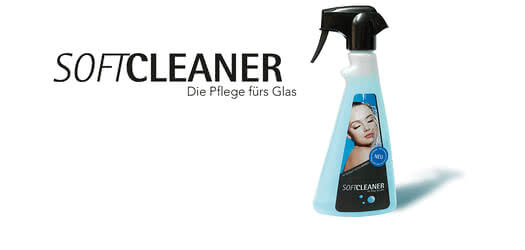 SoftCleaner®
SoftCleaner contains SpriClean® and is ideal for cleaning finished glass surfaces. It ensures that the glass panel keeps its water-repellent effect. At the same time, the water-based product provides protection and care for your real glass shower, glass shower base, wall glazing and glass shelves. Our special formula prevents cleaning marks and adds a nice sparkle to your glass. Not suitable for acid-sensitive surfaces such as natural stone and marble.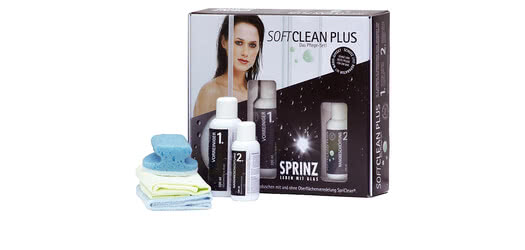 SoftClean Plus®
The SoftClean Plus care kit is suitable for basic cleaning, and it also carries out fast and simple "repairs" on the SpriClean® finish. The invisible finish seals the glass surface, prevents corrosion, puts the sparkle into the glass and has excellent care properties.