Care tips for glass doors
Care tips for our SPRINZ glass doors, sliding doors and glass panels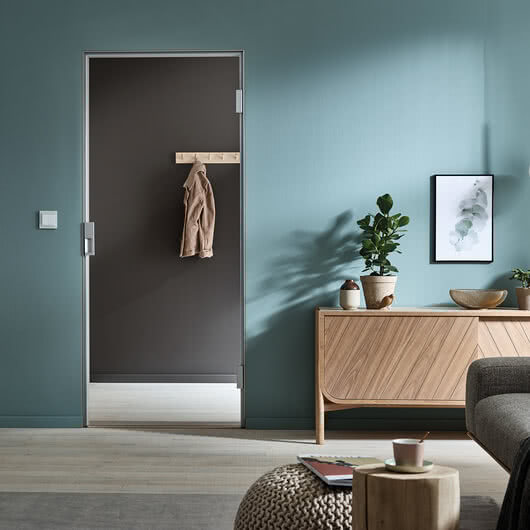 How do I clean my glass doors?
Your SPRINZ glass door is easier to clean than you might think. Real glass can be cleaned in no time at all. The high-quality handles and hinges are particularly easy to clean, as they are mostly flush on the inside of the glass.
If toughened safety glass is not treated correctly, it can easily get scratched and dirty, with deposits forming, and you should therefore look after it regularly and in the right way. So to help you, we'd like to share the most important care tips for glass doors.
General care tips for glass doors
Cleaning should always follow the golden rule: the more often you clean, the less time it will take. Dirt should therefore be removed as quickly as possible before it has a chance to settle.
It's particularly important to avoid using any abrasive or scratchy materials. Soft sponges and chamois leather cloths should be free from dust and any other dirt, as they might scratch the glass surface. To prevent this from happening, we'd recommend using a damp cloth, without applying pressure on the glass. Cleaning should proceed in broad, sweeping movements, rather than focusing on small areas.
To remove larger amounts of dirt, you may want to clean the glass with lots of water first. However, when cleaning laminated safety glass (LSG), make sure no water gets between the layers of glass via the edges. With sliding glass doors, make sure the water stays away from the rails.
Don't use an aggressive cleaning product. To avoid unpleasant surprises, always test a cleaning product in an inconspicuous area before using it for the first time. This way you can make sure that any chemicals it contains won't harm the surface.
Avoid getting oil, fat or similar viscous substances on the door, as they are very difficult or even impossible to remove.

Here's a summary of the most important tips:
Clean all surfaces at regular intervals. The older the dirt, the more difficult it is to remove.

Use a soft sponge, chamois leather cloth or squeegee on all surfaces.

With a damp cloth, proceed in broad, sweeping movements, and apply only slight pressure.

In the case of LSG, avoid excessive amounts of water when cleaning along the glass edges.

Don't use aggressive cleaning products, and definitely avoid anything containing abrasive substances.

Avoid getting oil, fat, silicone and other highly viscous substances on the door, as they may be difficult or impossible to remove without leaving residues.
Our tip: SpriPower cleaner

Our SpriPower cleaner is particularly suitable for cleaning glass surfaces with baked ceramic screen printing or unfrosted structural glass. It is especially good at removing surface dirt caused by fat or oil.
FAQs care tips interior
How often should I clean glass?
To ensure that glass preserves its sparkle and remains transparent for as long as possible, it should be cleaned at regular intervals. This is the best way to prevent dirt and other impurities from collecting. Basically, the more often you clean, the less time it will take.
How do I remove fingerprints from glass?
On a sandblasted surface you can remove fingerprints with a gentle glass cleaner and a soft cloth. Wipe the damp surface, applying very little pressure. Then dry well.
How can I avoid lime stains?
Use lime-free water if possible. Distilled water is particularly suitable for this purpose. If lime stains do appear, you can remove them with a weak mixture of water and vinegar. Then wipe dry to prevent more lime deposits.
How can I avoid cleaning marks?
Cleaning marks produce a cloud-like effect, which can be avoided by using lime-free water. Don't clean or dry the glass with paper towels, as they contribute to cloud formation, caused by fibre dust settling on the glass.
How can I avoid scratches on glass?
Scratches on glass can be caused by incorrect cleaning. There are always fine particles of dust or sand on the glass. When you apply too much pressure while wiping, those particles scratch across the surface. To prevent this from happening, make sure you use a cloth that is as damp and soft as possible.
What are the best products for cleaning glass?
SPRINZ glass is easy to clean, so that mild cleaning products are perfectly adequate. Plain water or a few drops of washing-up liquid are usually enough.

Never use scouring agents, steel wool, cleaning products with abrasive additives or agents containing vinegar, citric acid or any other chemicals, as they may cause damage to the surface.