Special applications
Ideas and impulses for glass in architecture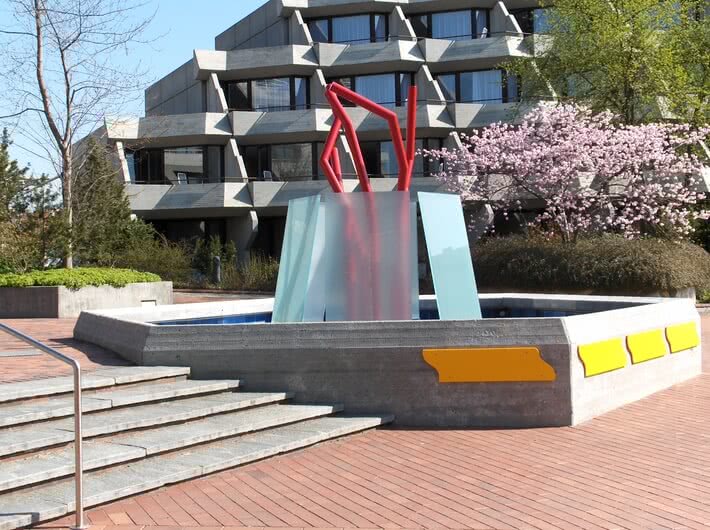 Unique and creative design with glass
Glass offers an immense range of application options, both outdoors and for interiors. Apart from the standard uses, there are diverse possibilities for designing with glass.

Sprinz will gladly advise you competently from planning to assembly.
Fountain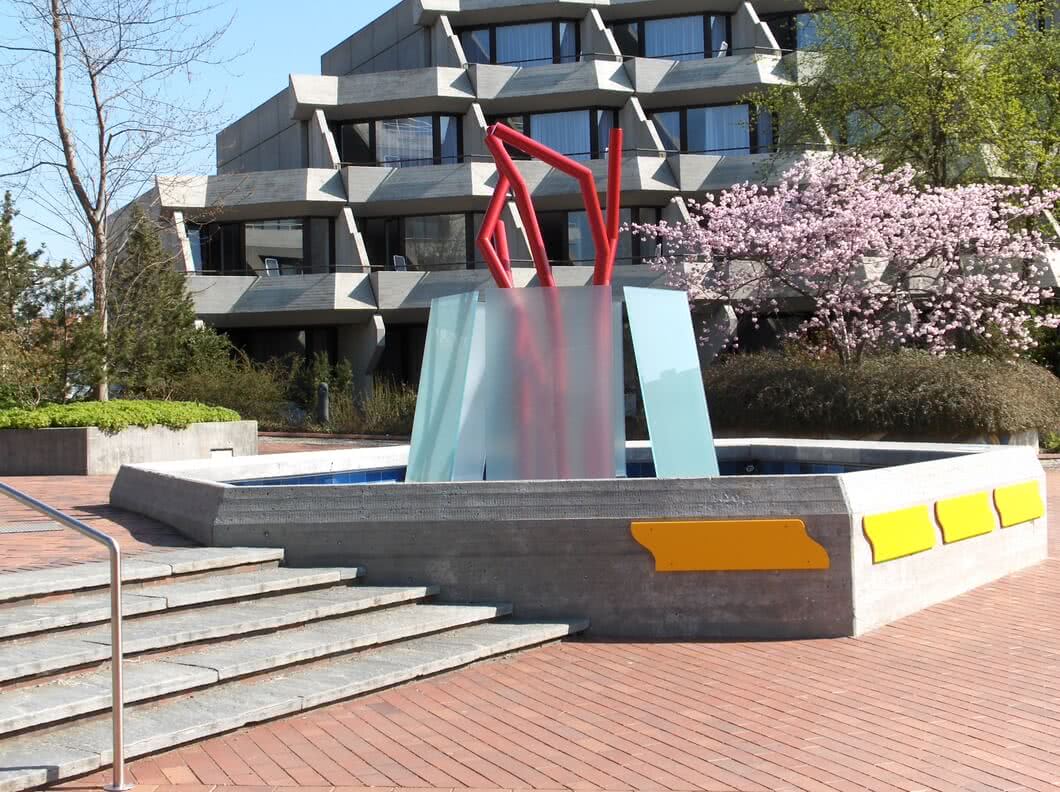 Sprinz worked closely with the artist to create the fountain outside of the Culture Centre in Bad Buchau, exchanging creative impulses to technically implement ideas and drafts in glass. The safety glass elements consist of VSG 24, a laminated safety glass of 2 x 12 mm toughened safety glass. Point brackets and plinths of stainless steel hold the matt glass elements in the water basin at particular angles.
Roof glazing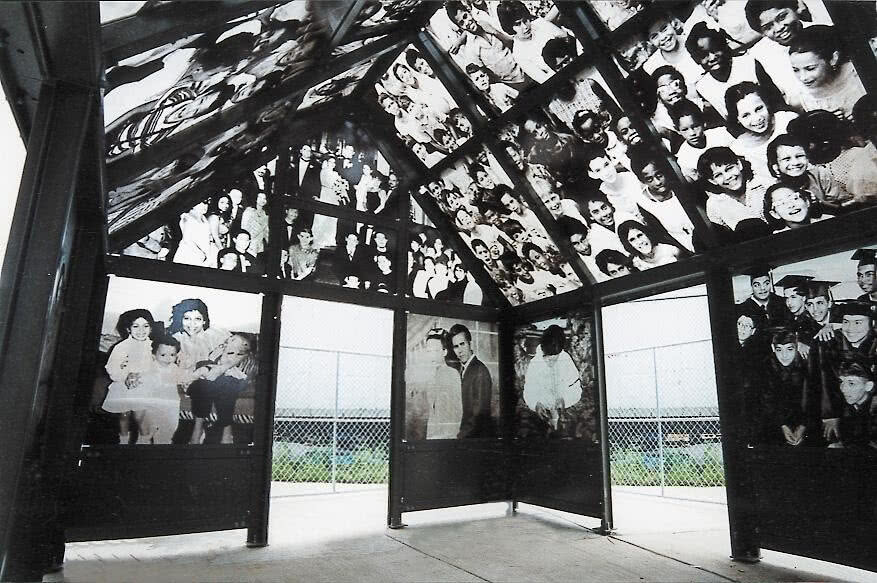 The use of overhead glazing is currently governed by the TRLV (Technical regulations on noise and vibration protection).
Glass structures always require the use of laminated safety glass on the inside. On the outside, different types of glass can be used depending on the requirements. Generally, toughened safety glass is used.
Versions without shading systems should facilitate controlled ventilation. Sun protection glasses can be used as well.
Stairway enclosure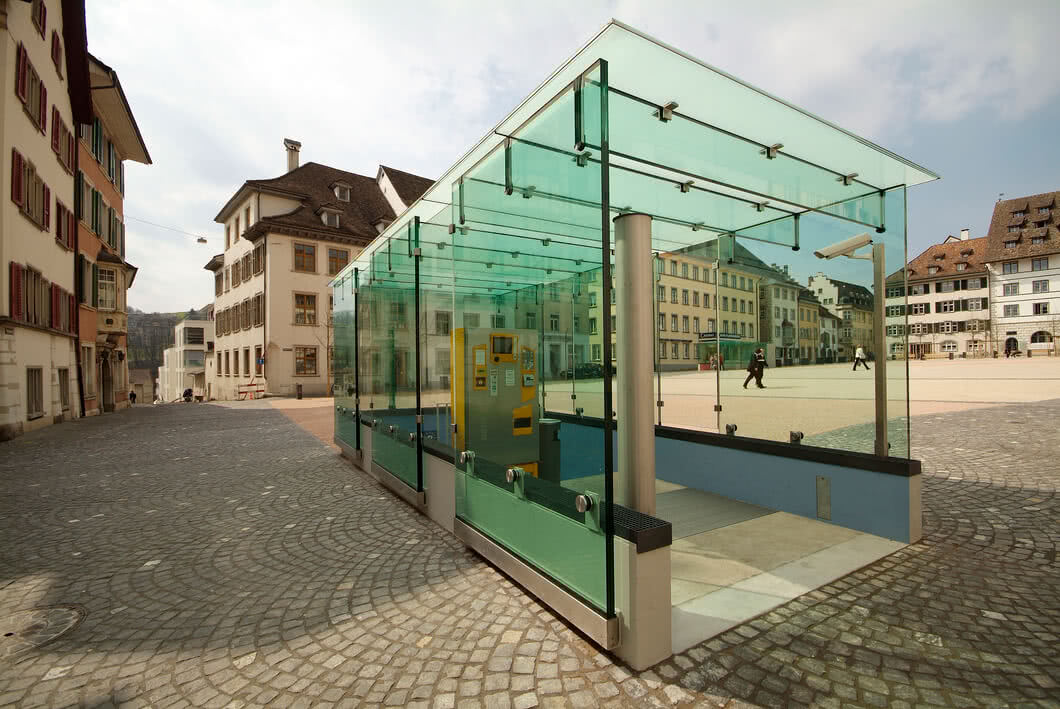 When a square in Schaffhausen was redesigned, three concrete and expanded metal stairways to an underground garage were replaced by glass cubes. Sprinz developed custom solutions for static adhesion and clamped point brackets. Each of the custom designs solves a design and architectural challenge.
The three glass cubes measuring 3,41 x 2,90 x 7,22 m are intended for weather protection. They are open on three sides and integrate remaining concrete plinths and stairways. They are made of
laminated safety glass or toughened safety glass with stainless steel point brackets and profiles, plastic elements of black POM and UV- and weatherproof adhesive. The unique challenges of the project were the adhesion, the seating of glass fins in glass side pieces, clamp connectors to balance out tolerances and the connection of glass panes of different thicknesses. Proof of structural strength was provided for all glass elements and fittings.
Connecting walkway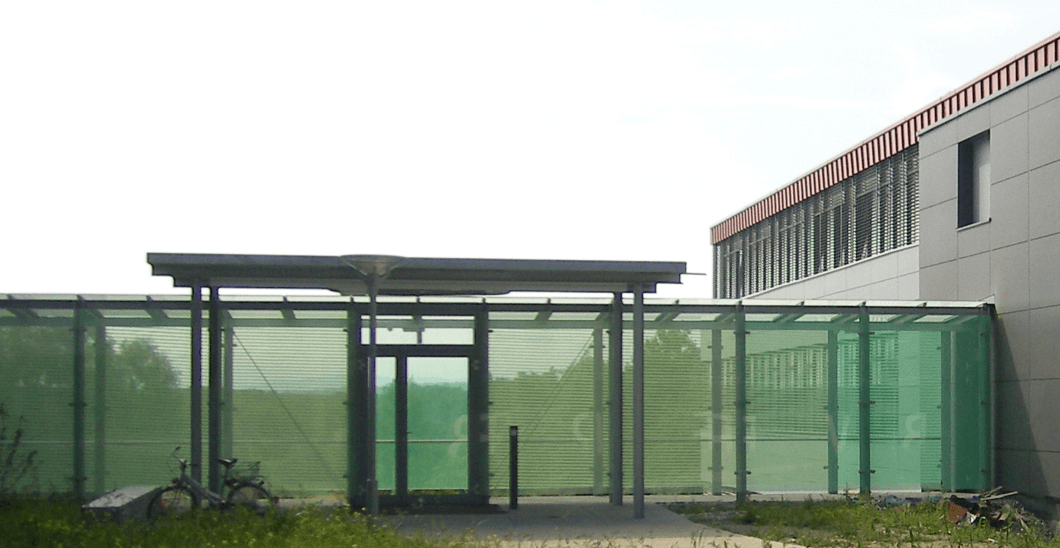 Sprinz created a connecting walkway of translucently printed glass on the university campus in Constance. The glass blends harmoniously with its surroundings and subtly connects the two buildings. The translucent colour was printed on the glass in a ceramic printing process and fired on. The print is non-fading, weatherproof and robust. The surface can be cleaned easily and is extremely hygienic because of its unbroken structure.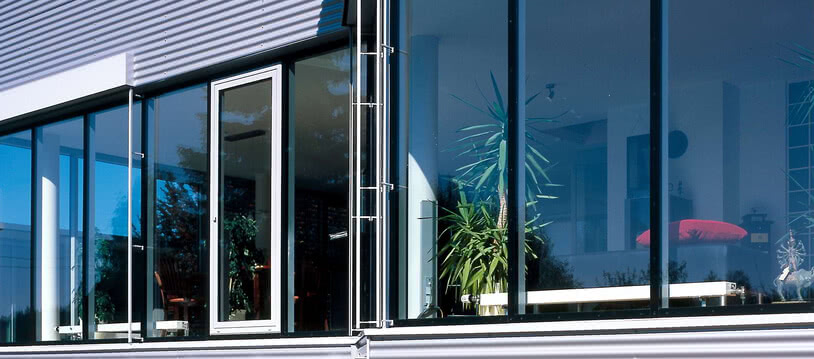 Sprinz insulating glass delivers everything we want for our home and workplace: It controls light and sun, preserves warmth, locks out noise and gives protection and safety.

Glass stairway and balcony railings are becoming increasingly popular in architecture. Transparent glass makes everything look bigger.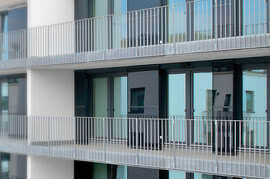 Façade glazing for rooms bathed in light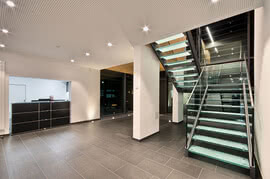 Walk-on glazing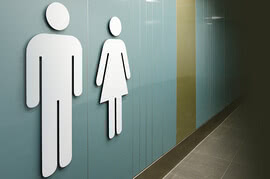 Toilet partitions, sanitary and dressing rooms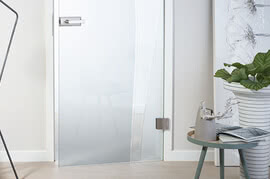 Glass doors, sliding doors and partitions

Canopies, balcony systems, privacy screens or post systems are available in our Exterior section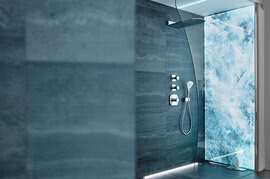 Favourite motif or pattern as design element