Sliding systems
Flexible glass for balconies and terraces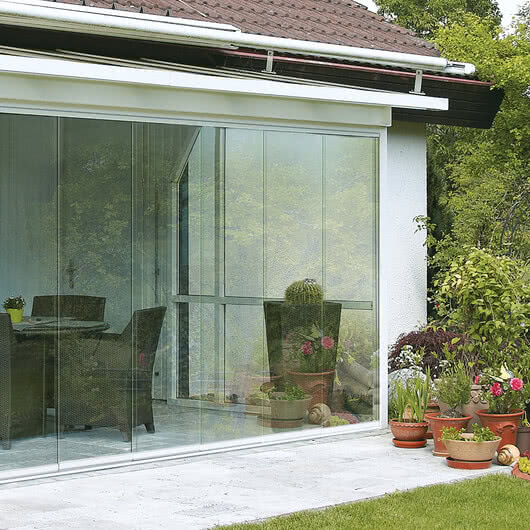 Outdoor sliding system – extends the outdoor season
The Motion Outdoor sliding system provides an optimum climate, ensuring life on the balcony or terrace is that much more fun. You can relocate the flexible Sprinz glass elements as you wish, allowing you to block out draughts and cold or let in a refreshing breeze. With no obtrusive frames or completely frameless, the toughened safety glass provides a clear, unobstructed view. The glass elements are securely guided in a ceiling and floor track. Balcony glazing and terrace glazing are also mounted as a retrofit. Motion Outdoor sliding systems are delivered ready assembled and are installed in next to no time. Motion 2000 Outdoor is produced with toughened safety glass with a low installation depth. If you require noise and burglary protection, then choose Motion 2100 Outdoor with laminated safety glass and a floor corner lock. You can order Motion 2100 Outdoor with electric door opening if you wish.
Motion 2000 Outdoor sliding system
Motion 2000 Outdoor allows you to design ceiling-height terrace glazing or a sliding window for your balcony. The system is suitable for a retrofit modernisation. Pre-assembled in the Sprinz factory, the elements are quickly and flawlessly installed. The white or matt chrome profiles are arranged behind one another or next to each other. The toughened safety glass is manufactured to a maximum size of 2.500 mm, depending on the wind zone.
Technical details
All-glass sliding systems above and below with end-to-end profiles

For 2, 3 and 4 tracks

Glass elements are arranged behind one another or next to each other

Can be slid to left or right

Top anti-leverage protection on glass slide sash

Max. sash weight 60 kg

Max. size 2.500 mm, depending on the wind zone

Glass slide sash with bonded profiles at top and bottom ex factory

Designed to hold 8, 10 and 12 mm toughened safety glass

Profile surfaces available in matt chrome or white

Possible as balcony glazing (fitted on existing balustrade) or terrace glazing (ceiling height)
Motion 2100 Outdoor sliding system
Motion 2100 Outdoor is a frameless glass panelling system for balconies or terraces. The Sprinz sliding system is mounted in a single track in front of the wall and in a single or double track on the ceiling. Laminated safety glass with a floor corner lock to provide greater security and noise protection on request. The glazing is optionally fitted with an electric door opener for greater convenience and barrier-free access.
Technical details
Frameless sliding system made of certified 8 or 10 mm safety glass and 10 or 12 mm laminated safety glass

Single-track fitting in front of the wall

Single- or two-track on the ceiling

Increased burglary protection with toughened safety glazing combined with floor corner lock

EV1 aluminium surface

Max. sash weight: 120 kg

Maximum glass width: 1.400 mm

Two edge cut-outs must be made for the glass clamping system

For fitting in front of windows and terrace doors

Optionally fitted soft stop with closing damper and back check for a max. sash weight of 100 kg

Provided with optional electric door opening/closing

Not a fall protection system
Gallery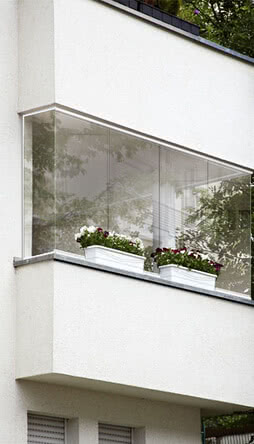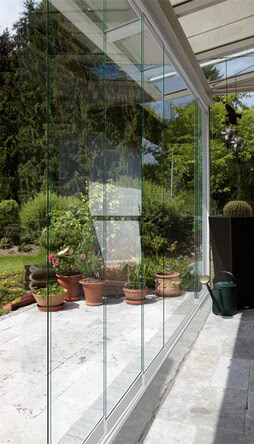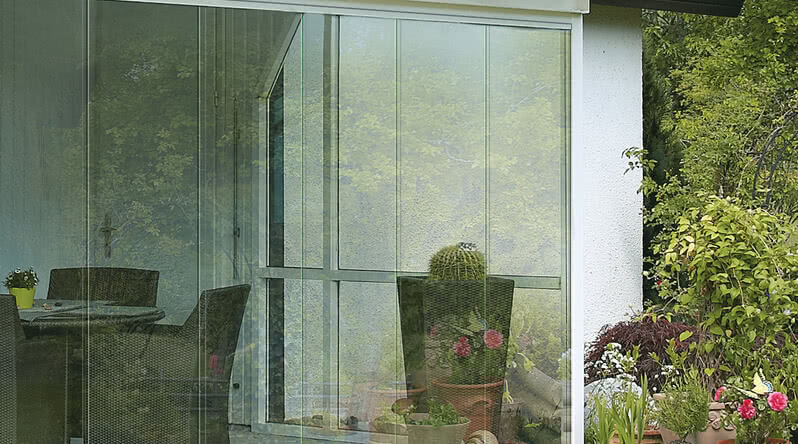 Product information
Installation instructions:

Drawings: