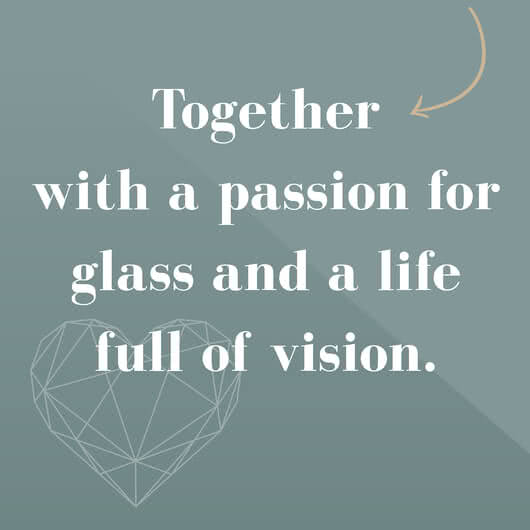 SPRINZ – a company with a long-standing history
Founded in 1886 at Ravensburg, Joh. Sprinz GmbH & Co. KG is now regarded as a long-established, medium-sized and owner-operated family enterprise.

Established originally as a grocer's business by Johann Sprinz, the company has since then grown, first into a glass wholesaler and eventually an all-inclusive glazing supplier. SPRINZ has a large and unique range of products, making it one of Germany's leading glass processors.

This page gives you details about our company, its history and its corporate philosophy.
Corporate philosophy
QUALITY
Quality is our highest priority!
For us, quality means beautiful product design combined with high-quality materials and outstanding functionality. Our partnership with Euroglas means that we can verify and guarantee the highest quality in raw glass. Moreover, we can look back to 135 years of experience in glass processing, so that we benefit from the highest level of expertise and professionalism.

APPRECIATION
The welfare of our workforce is important to us.
In particular, we value reliability, mutual respect, appreciation, kindness and trust. We are honest and open to one another, and we show mutual understanding and respect. Our managers work closely with your many different teams in production, administration and sales. By cultivating openness and honest communication, we create a positive working atmosphere where everyone is both challenged and encouraged.

CUSTOMER FOCUS
What distinguishes us from others is our customers.
They are our top priority, and we always find customised solutions for every specialised request. This includes personal consultancy and the creative implementation of modern glass products, so that every home becomes something very special.

SUSTAINABLE INNOVATIONS
We take responsibility for our products.
Glass is a sustainable material that is fully recyclable and can be reused any number of times without losing its quality. Furthermore, it is made almost exclusively from natural raw materials that occur abundantly in the natural world. Also, the materials we use for finishing, e.g. SpriColor paint, are 100% solvent-free, recyclable and free from heavy metals and from additives that are subject to labelling. We therefore combine ecological awareness with timelessness, modernity and quality. Join us as we look to the future!
History of Joh. Sprinz GmbH & Co. KG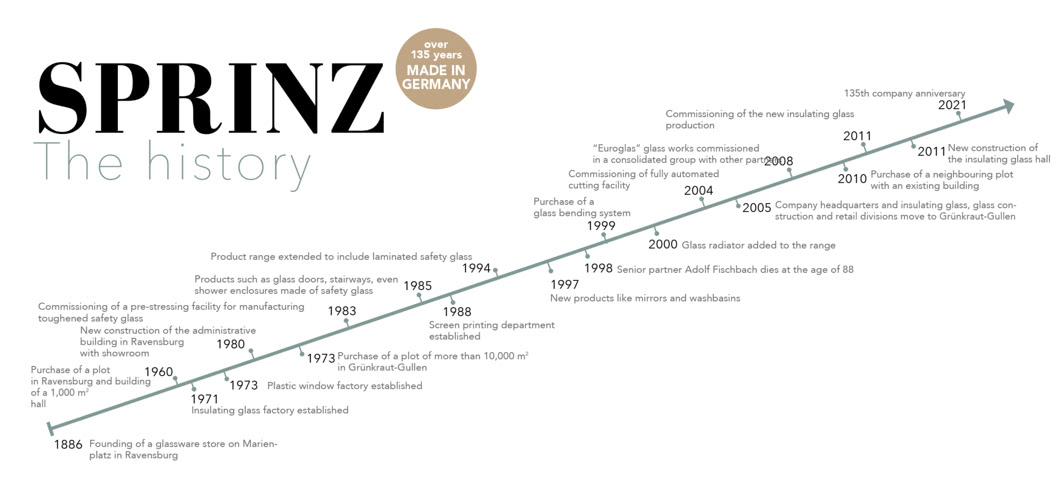 HOW IT ALL STARTED
Our company, which is now called Joh. Sprinz GmbH & Co. KG, was started on 12 March 1886 by Johann Sprinz at Ravensburg, laying the foundation for a long-established, medium-sized and owner-operated family business. Originally founded as a grocer's business, the company has since then grown, first into a glass wholesaler and eventually an all-inclusive glazing supplier.

GAINING MOMENTUM
Back in 1948, the company would deliver 1.5 tonnes of glass per day on its first lorry, an Opel Blitz. Today, it turns about 110 tonnes of raw glass into shower enclosures, glass doors, partition systems, façades and other specialised, high-quality glass products on a daily basis. This makes SPRINZ one of the leading glazing specialists in Germany. Now in its fourth generation, the family business still lives and works with glass, combining experience with innovation and high-tech with craftsmanship.

Since 2008, the company has also been supplying raw glass of the highest quality, in partnership with the glass manufacturing company Euroglas near Magdeburg. Everything is made in Germany and comes from a single source – from the raw materials and the initial idea to development and production.

SPRINZ TODAY
Today, SPRINZ has a workforce of around 380 at its plants at the company's headquarters in Grünkraut, near Ravensburg, southern Germany. Ranging from the original idea to development and production, the good qualities of German craftsmanship are clearly in evidence in our bathroom furniture, component retailing, interior and exterior design, structural glass, insulating glass, the glass world of the kitchen and a showroom called World of Glass. This ensures customers receive consistently high quality, flexibility, distinctive innovative products, beautiful design, inspiring solutions, meticulous workmanship, customised solutions and fast, reliable service.
Firmly established in the region, the company sells its branded products throughout Germany via specially accredited dealers, and also has a strong international focus.

SPRINZ has created a name for itself with its World of Glass showroom. The showroom displays practical examples of different glass applications and also serves as a centre for innovations and a venue for seminars.
Milestones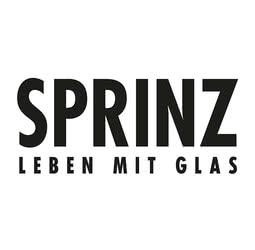 2021
2021: 135-year company anniversary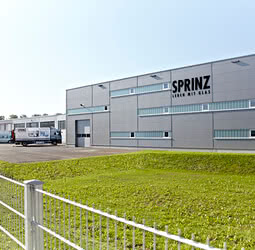 2011
2011: The new insulating glass production facility is constructed and commissioned.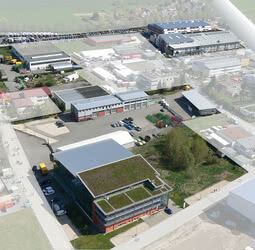 2010
2010: A neighbouring plot with an existing building purchased. Plan for a new factory with a glazing warehouse and workshops for cutting and a fully automated insulating glass production for triple-layer laminated panes.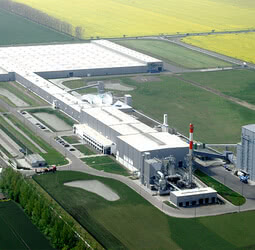 2008
2008: Euroglas glassworks commissioned in Osterweddingen, near Magdeburg, in the consolidated group with other partners.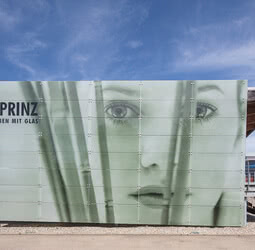 2005
2005: 200 m² World of Glass showroom opened and the company headquarters and the Insulating Glass, Glass Construction and Retailing Departments relocated to the current Grünkraut site.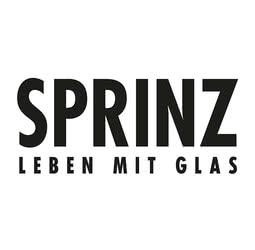 2004
2004: A fully automated cutting facility goes into operation to cover SPRINZ's entire requirements.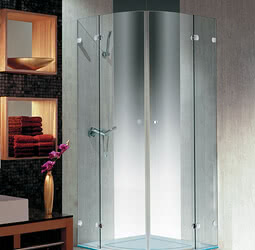 2002
2002: The first standard frameless glass shower Sprinter introduced.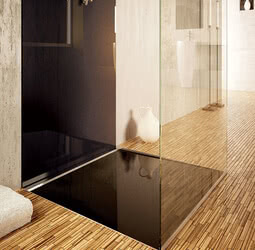 2001
2001: Two-sided SIRIUS hinge technology, flush on the inside, is developed for shower enclosures. The ELEMENT shower tray and MIROTHERM mirror heating added to the range.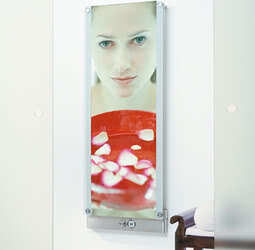 2000
2000: The SUPRATHERM glass radiator added to range.
2000
2000: Bathroom fittings building completed in Grünkraut-Gullen.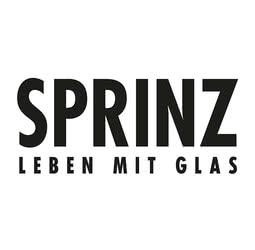 1999
1999: Glass bending machine purchased to bend glazings into different shapes and radii for round showers.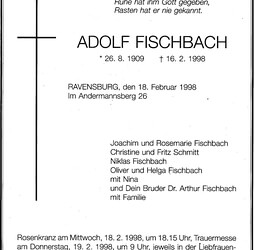 1998
1998: Senior partner Adolf Fischbach dies at the age of 88.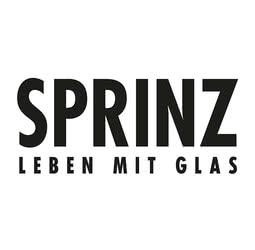 1997
1997: ZIRKON hinge technology, flush on the inside, is introduced for shower enclosures. Glass & light products and AQUATEC washbasin added to range.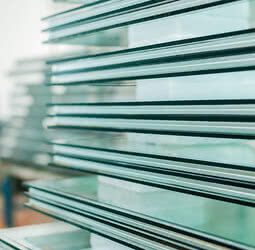 1994
1994: Product range extended to include laminated safety glass.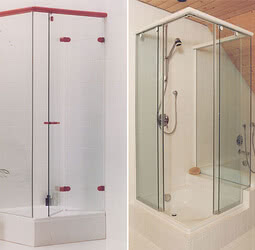 1990
1990: The first toughened glass shower enclosures.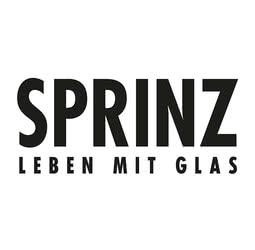 1988
1988: Screen printing department established.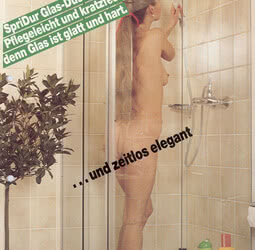 1985
1985: A new era starts: products in demand on the market are developed and manufactured, including glass doors, door cut-outs, stairways and toughened safety glass shower enclosures.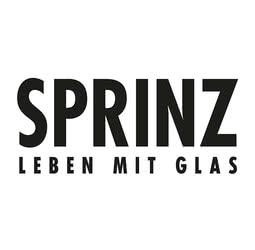 1983
1983: Plot for the current company headquarters purchased, spread over more than 10.000 m².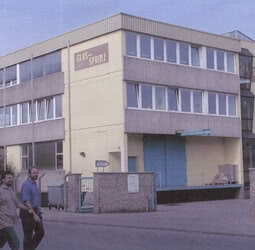 1980
1980: New administrative building constructed in Goethestrasse with a showroom, where the first products are displayed.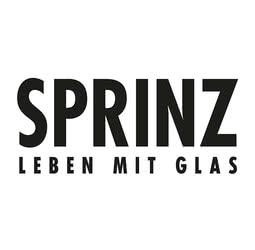 1973
1973: Composite window production set up as an alternative to wooden windows.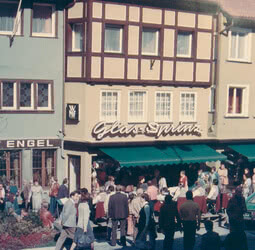 1970
1970: The SPRINZ houseware store.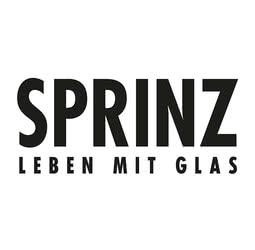 1960
1960: Plot purchased at Goethestrasse 36 in Ravensburg. 1.000 m² unit built on the site for glass wholesale.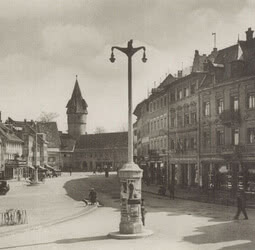 1920
1920: Marienplatz in Ravensburg.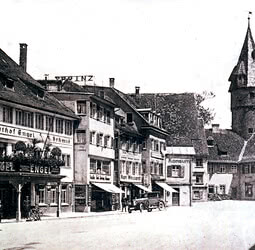 Around 1920
Around 1920: the SPRINZ grocer's.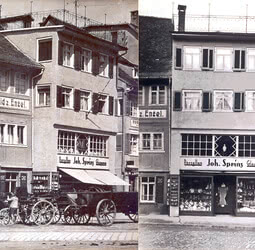 1886
1886: Glazier Johann Sprinz establishes a glazing store on Marienplatz in Ravensburg. Extended to include glass and porcelain goods at a later date.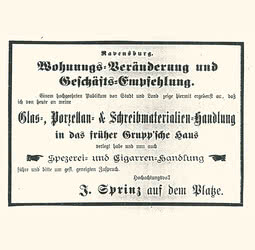 1886
Newspaper article from 1886
More milestones
Fewer milestones
Facts & figures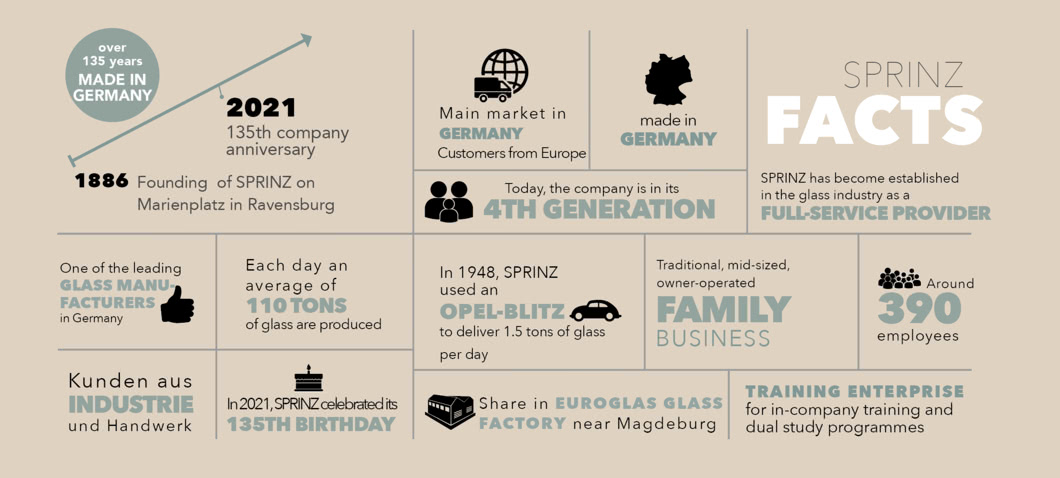 THE MOST VERSATILE SUPPLIER IN THE MARKET
SPRINZ makes toughened safety glass, laminated safety glass and insulating glass and enhances its glass products with motifs and patterns as well as with slip-resistant and water-repellent surfaces. One speciality is high-quality ceramic screen printing on glass, used to create vivid colours and motifs. SPRINZ is the only company in Germany that carries out four-colour ceramic screen glass printing in photo quality.

Our glass products can be used in both interior and exterior design. By featuring, for example, real glass showers, mirrors, bathroom furniture and partition systems, SPRINZ covers a wide product range for bathrooms.
The focus is on frameless real glass showers with hinges flush on the inside. SPRINZ started to include special shower enclosure hinges – flush with the inside surface – as early as 1997. This fitting technology, which ensures quick, easy cleaning, has become the standard in recent years.

LIVING WITH GLASS
In addition to its main focus – the bathroom – SPRINZ's portfolio includes quite a few further glass products for all spheres of life, and this is underlined by the company's mission statement, "Living with Glass". Glass doors and matching systems for sliding doors, kitchen rear panels and worktops as well as all-glass systems for the private and public sectors, glass staircases, façades and glass privacy screens – everything is possible with us.

AWARD-WINNING PRODUCTS
All our glass products are characterised by design and innovation. The iF Design Award, Plus X Award, Design Plus Award and a nomination for the German Design Award are just some of the distinctions that SPRINZ has received over the last few years.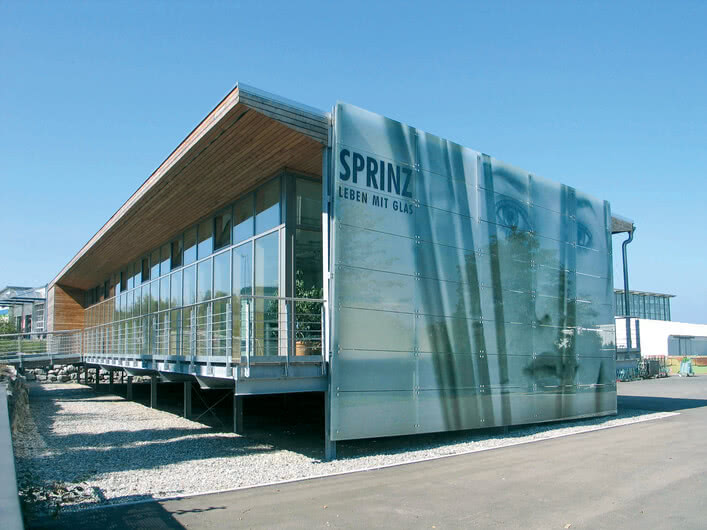 Showroom
On 200 m2, our showroom presents attractive products and clever solutions made of glass. We look forward to seeing you!

Opening times
Monday to Friday 8 am to 5 pm
Saturday 9 am to 12 noon
More