Glass balustrades
Safe, beautiful and individual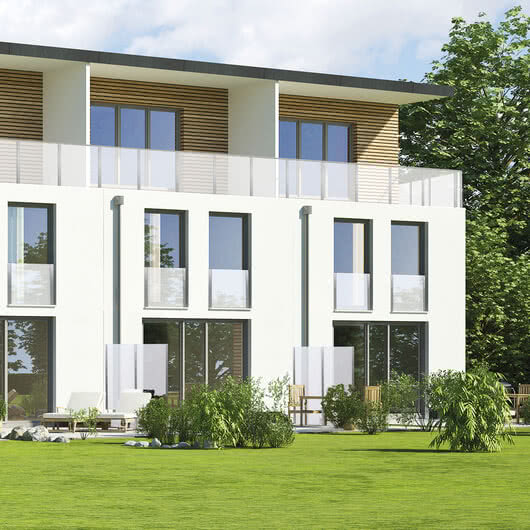 Glass balustrades for balconies and stairways
Glass stairways and balcony rails are becoming increasingly more popular in architecture. Transparent glass makes balconies look bigger, bringing them lightness. You can create Sprinz glass balustrades with clear glass, matt printed glass or highly opaque colours. The fired ceramic paints are non-fading and UV-resistant. Together with aluminium profiles and fittings, you can create a balcony rail which sun, rain and environmental influences are unable to harm. You'll never need to paint again and thus save time and money. The glazing is suitable for new buildings and renovations. The glass elements for balconies and stairways are manufactured as per the dimensional plan and are mounted either on the floor or the front face. Approvals or component tests of the various versions are available.
Installation variants
Balcony system installation recommendations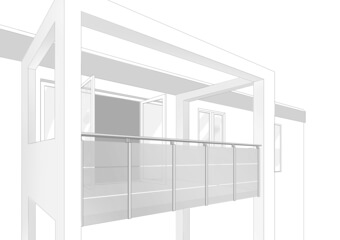 One-sided balcony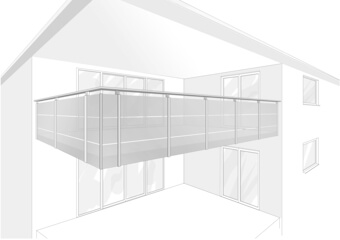 L-shaped balcony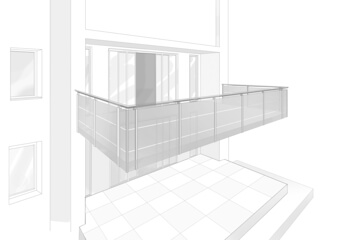 U-shaped balcony
Sekurita – Built-in balustrade glazing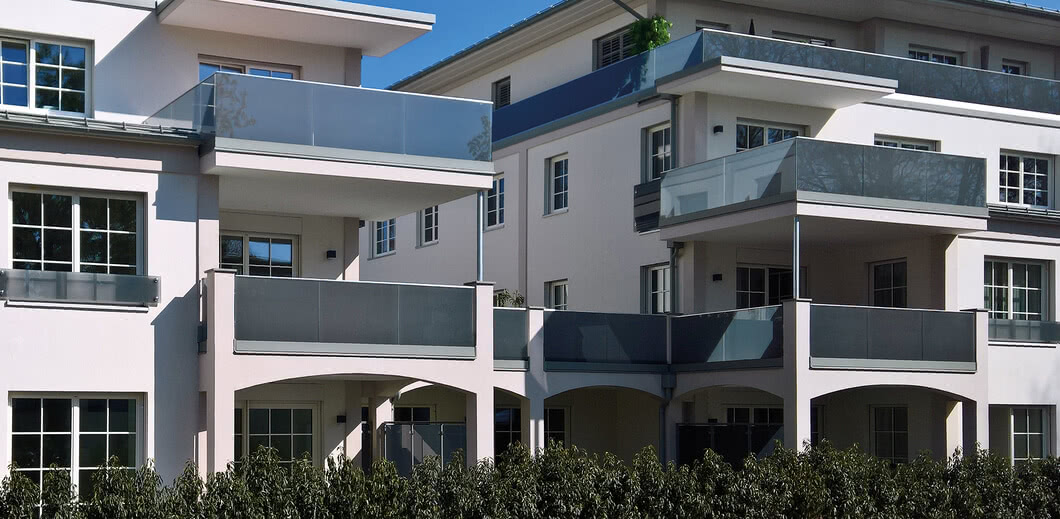 Balcony systems today have to satisfy high fall protection requirements. All building supervisory test certificates address this aspect. Our clamped balcony balustrade system clamps the glass banister with just a floor profile. No posts are necessary between the individual glass panes. The handrail is attached directly to the upper glass edge. Our system offers all necessary safety features with a general building supervisory test certificate and the necessary static wind force calculations. The simple assembly system saves money and allows for individual panes to be replaced at a later date. The balcony glass is of particular significance. A tested laminated safety glass (VSG) of at least 16 mm thickness is used. Due to the glass weight, we recommend a maximum width of 2,500 mm per individual glass element. This system is also available as a gallery in the interiors segment.

The glasses for the system can be refined with a motif from ceramic digital or screen printing. You can find an overview of motifs in our exterior motif world.
Technical details
Built-in glass balustrades according to general building supervisory approval

The floor profile is mounted directly onto the raw floor from above

The side profile is attached to the front face from the concrete ceiling

Max. glass dimensions: width up to 2,500 mm, height up to 1,100 mm

A stainless steel handrail is affixed end-to-end along the upper glass edge

The total height of the profile starts at 130 mm from the raw floor

Glazing in VSG 16/2 (2 x 8 mm ESG) or VSG 20/2 (2 x 10 mm ESG)
Infinity – Infill glass balustrades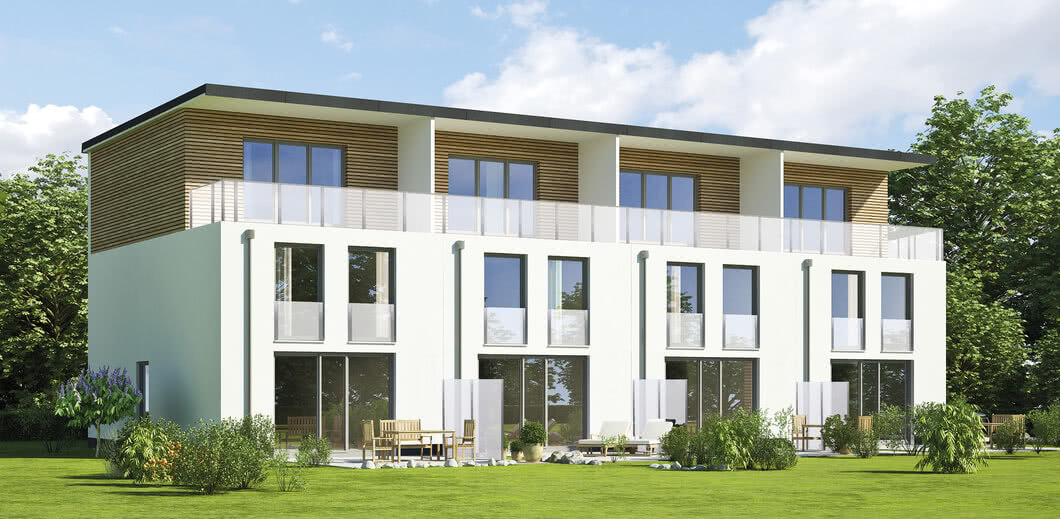 Balcony or stairway banisters protect people from falling and really catch the eye. The Infinity system consists of posts with handrails and filler glazing with a glass thickness of 12 mm. It has two panes that are laminated together with a tear-proof foil and thereby guarantee fall protection. The glass is clamped to the sides of the posts. The colour print is between the panes in the permanently protected area. We recommend choosing the glass elements' height so that the printed glass extends over the entire height of the bottom slab of your balcony. That way, the often dirty front face of the bottom slab of your house remains hidden from view. The fittings are made of no-maintenance massive aluminium, and are finished in the EV1 surface finish.

The glasses for the system can be refined with a motif from ceramic digital or screen printing. You can find an overview of motifs in our exterior motif world.
Technical details
Consoles for floor or front face assembly

Posts, handrail, linear glass panel clamping of high quality, no-maintenance aluminium

Aluminium posts 60 x 60 mm

Aluminium handrail in oval shape 67 x 20 mm

Linear glass panel clamping on posts left and right

Invisible variable connection of handrail and post

Surface in EV1

Surfaces of the fittings in RAL of choice

Glazing available in VSG 12/2 (2 x 6 mm ESG) or VSG 16/2 (2 x 8 mm ESG)

Maximum glass dimensions: 1,500 mm x 1,100 mm

Screen printing possible

Component test and static certificate available
Point-fixed glass balustrades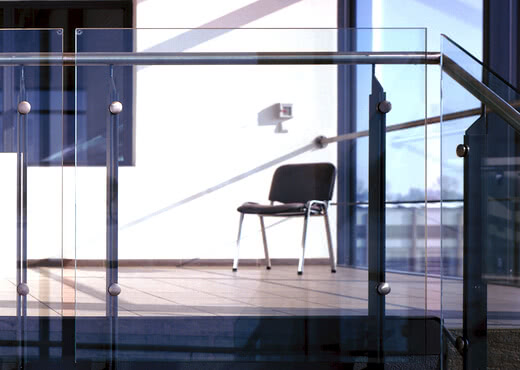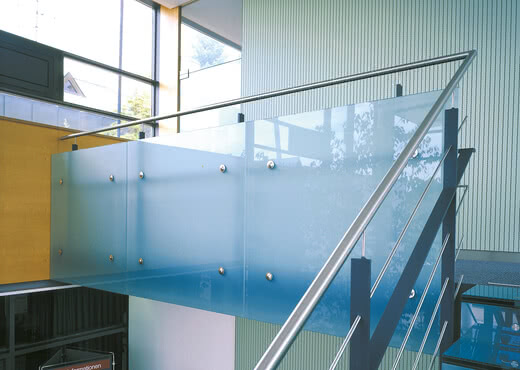 Glass elements and discreet stainless steel fittings are increasingly combined for balconies and stairways in commercial and residential buildings. Sprinz point-fixed glass balustrades blend in harmoniously with modern architecture and meet requirements for optimum functions. Glass balustrades and stainless steel point brackets are maintenance-free and easy to clean. Glass balustrades are subject to German Technical Rules.


Technical details
Component test available

Stainless steel point brackets SpriPoint 40

VSG 12/2 (2x 6 mm ESG) with four glass bores

Posts and handrail installed on-site
Gallery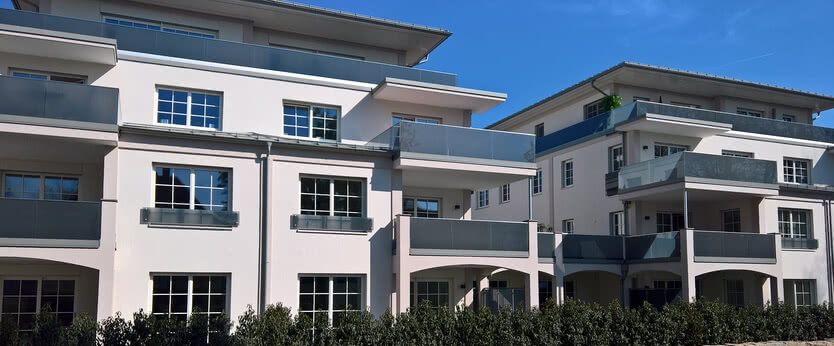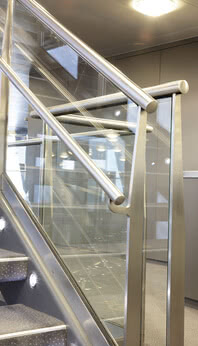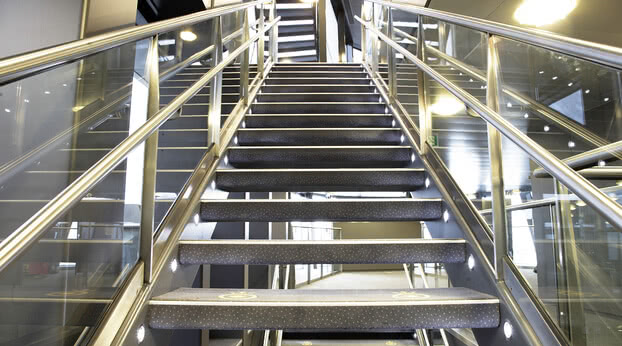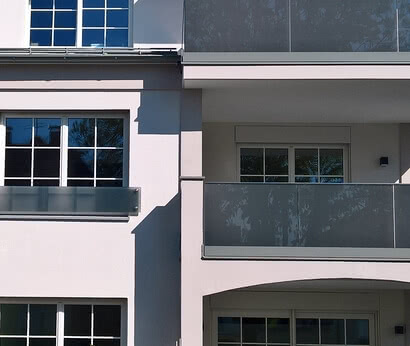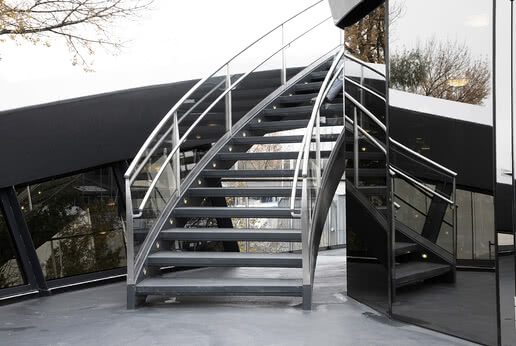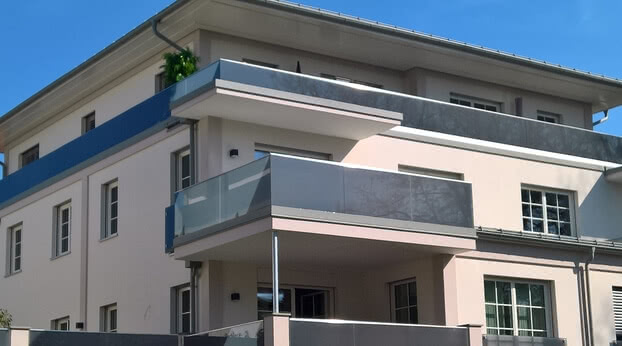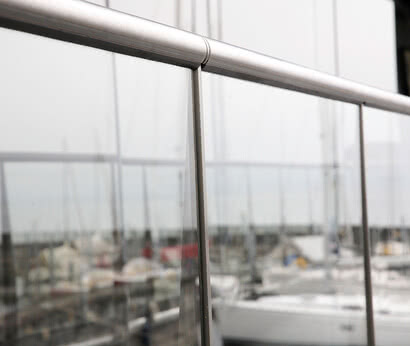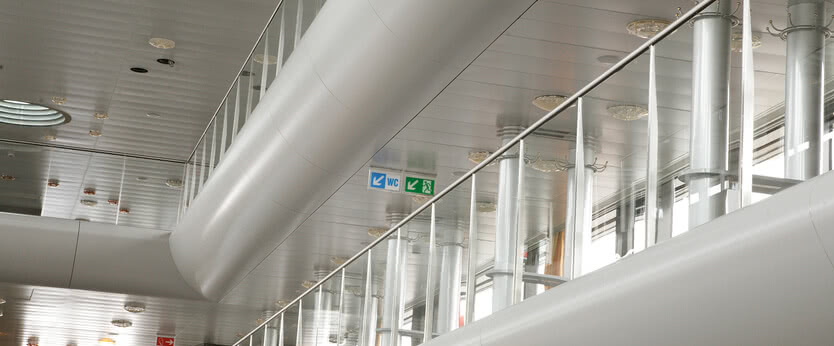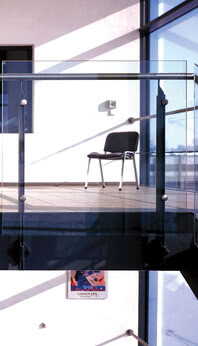 Product information
Installation instructions:

Drawings: