Kitchen World
Design your kitchen with glass and aluminium
Sprinz Kitchen World – everything for a customised kitchen
The best stories are often ones that take place in the kitchen. They revolve around cosy family get-togethers, excellent amateur cooks, the first candle-lit dinner or night-time kitchen parties. The kitchen is no longer merely a place to cook. Expectations are thus high for a modern kitchen. No matter whether you favour a country or Bauhaus kitchen, you will design a kitchen to your taste with Sprinz. Ingredients include worktops and rear panels. An elegant, timelessly beautiful design will emerge when you incorporate printed glass and LED lighting.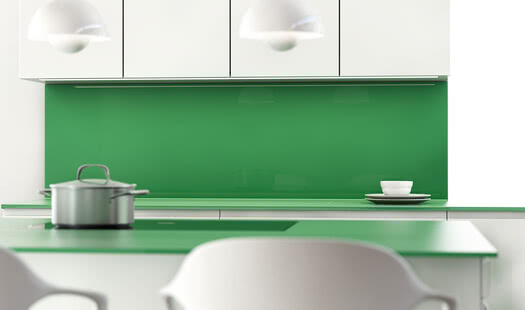 Rear panels
Printed glass rear panels add radiant accents in RAL colours or with vibrant, photo-realistic motifs. The Sprinz rear panel comes in large formats with no butt joints. Cut-outs as well as corner and surface cut-outs are completed precisely to measure.
Worktops
Design a worktop or breakfast bar top in large formats without intrusive, unhygienic abutting edges. You can add exceptional touches to the kitchen with porcelain ceramic, printed glass and added LED lighting.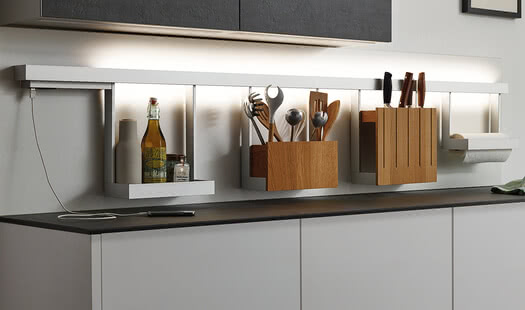 Rail system
The kitchen rail is a perfect addition to the Sprinz Kitchen World. It provides additional light and storage spaces and puts useful little kitchen helpers on display where they are ready to use.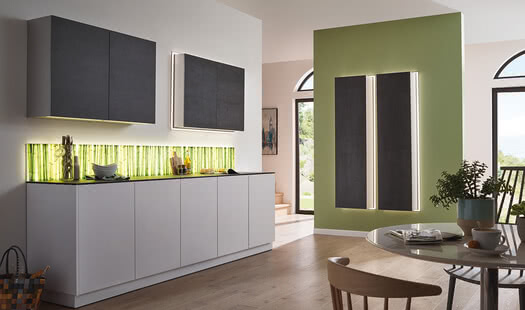 Design
The Sprinz Kitchen World allows you to design kitchens to suit your needs and preferences. Complete as a dream kitchen or with a selected individual piece. Discover all the options open to you here.
Benefits

Design
Sprinz products can be variably designed and adapted to personal preferences

Quality product
Highest standards of design, material and production for Sprinz quality products

Easy to clean
Special features like flush-mounted fittings or dirt-repellent surfaces
Tailor-made special solutions

As unique as you are
Unique kitchens and challenging installation situations generally take more than just standard solutions. This is why Sprinz creates tailor-made solutions to fit perfectly into your kitchen. No matter whether you require a worktop or rear panel, you will find the right concept for every requirement. Talk to us, and together we will work out a suitable solution. The on-site measurement service collects all data, which are then checked and used in our factory.