Elegant-Line 2.0
Unity of light and glass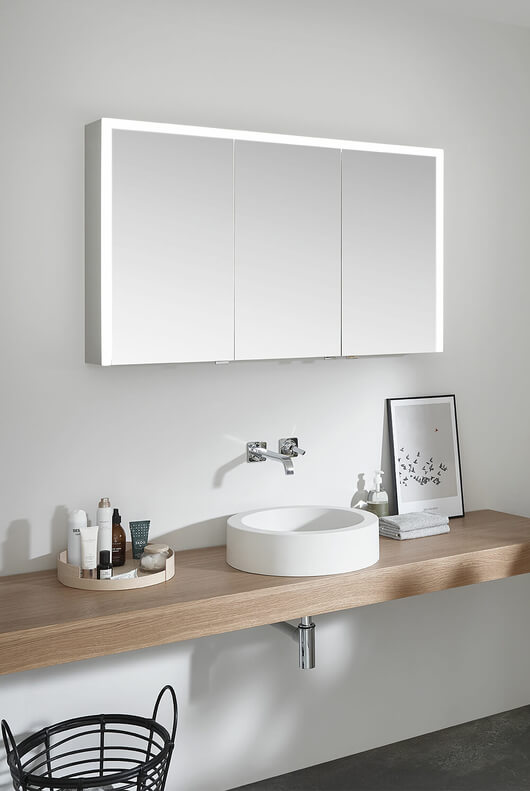 Elegant-Line 2.0 mirror cabinet – Fusion of light and mirror
A radiant frame and an elegantly discreet appearance: the SPRINZ Elegant-Line 2.0 mirror cabinet combines individual design with a sophisticated lighting concept. The new mirror cabinet model brings brilliant glass even more to the fore with three-sided lighting and allows glass and light to merge into a single unit. You can look brightly in the mirror early in the morning.

The three-sided light strips with LED technology nestle gently around the clear glass and conjure up an elegant framing of the double mirror doors. For you, this means optimal lighting for your daily washing and styling routine. The discreet handles of the Elegant-Line 2.0 mirror cabinet not only make it easier to open and close, but also blend in nicely with the overall picture.

The three models of this mirror cabinet with symmetrical door arrangements are available both as built-in and surface-mounted versions. With the aluminum mirror cabinet concept, the interior rear wall can be designed according to your personal wishes for sufficient individuality: whether mirrored, white or black glazed – you choose your favorites. The interior and exterior design of the body is available in matt or glossy aluminum. You can design the outside with a mirror or with black or white glass.
Technical details
Elegant-Line 2.0 from SPRINZ is available in three different models. Design your individual cabinet using the numerous options and color options.

Sophisticated lighting concept
The Elegant-Line 2.0 is particularly characterized by its three-sided light strips. These are evenly backlit using LED technology. The white light adaptation with dimming ensures an exciting intensity of the light colors.

Dimmable lighting solutions such as top-mounted lights and washing area lighting can also be added. A visual highlight is the optional vertical, flush-fitting interior lighting that gives the cabinet a sense of lightness.

SPRINZ Elegant-Line 2.0 always fits
The Elegant-Line 2.0 mirror cabinet is designed for surface-mounting and installation. Three different symmetrical and asymmetrical models are offered in widths from 500 to 1850 mm. The total depth including the mirror is 155 mm; the interior depth 117 mm. The body is 725 mm high. In addition, individual models with one to three doors are custom-made.

High-quality materials
The high-quality crystal double mirror doors are equipped with adjustable hinges including damping. The aluminum cabinet is made of matt aluminum or glossy aluminum both inside and out. The rear wall can optionally be designed with mirror glass, white or black printed glass elements and the outside of the mirror cabinet can also optionally be highlighted with these elements.

Additional scope for design
The Elegant-Line 2.0 mirror cabinet is designed according to individual requirements. As a glass manufacturer with over 135 years of experience in glass processing, SPRINZ produces made-to-measure mirror cabinets. Whether it's special sizes, personal taste or sloping ceilings in the bathroom: SPRINZ always finds the optimal solution. The competent team is available to every customer with advice and a measurement and assembly service available nationwide in Germany, Austria and Switzerland. Discover more about our services here.
Body finish

Matt aluminium

Gloss aluminium
Rear panel

Mirror
Overview of models
SPRINZ Elegant-Line 2.0, model types as shown with symmetrical mirror doors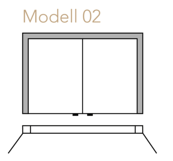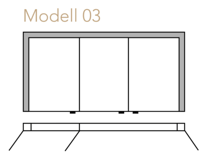 Gallery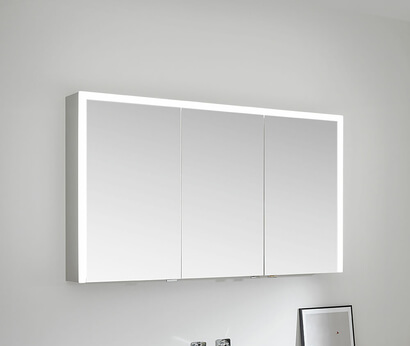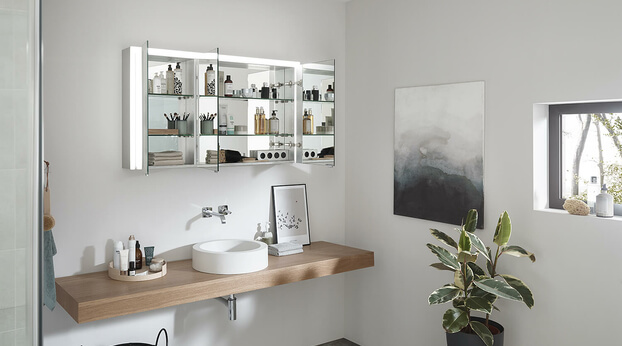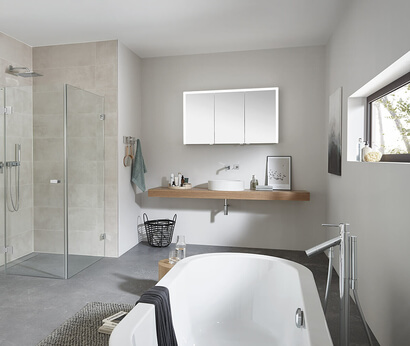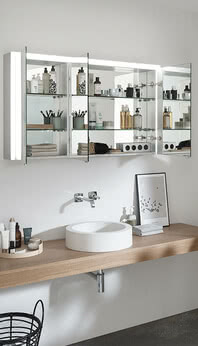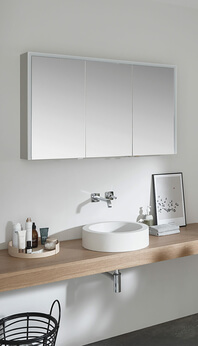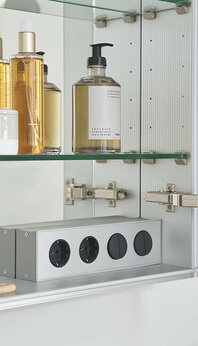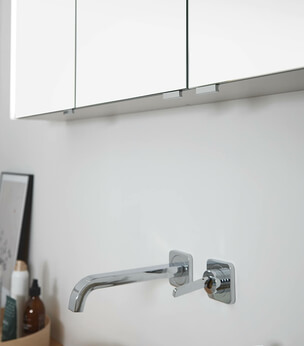 More products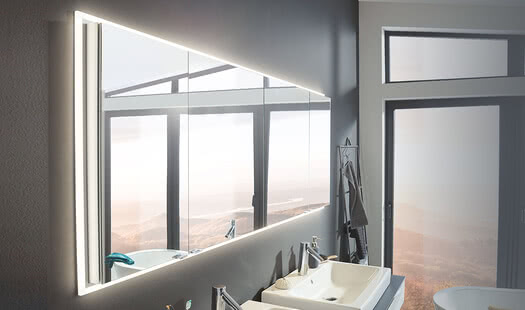 Classical-Line & Classical-Line Vario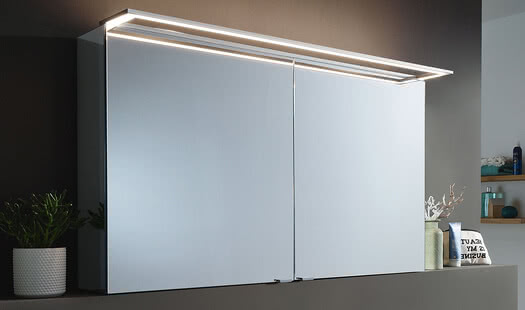 Modern-Line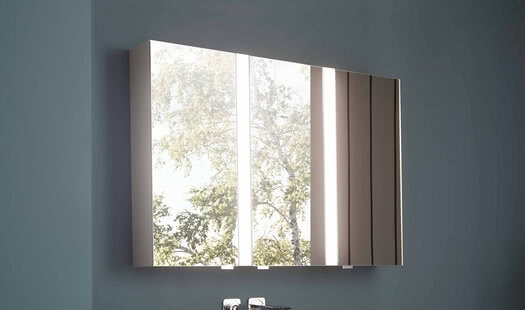 Elegant-Line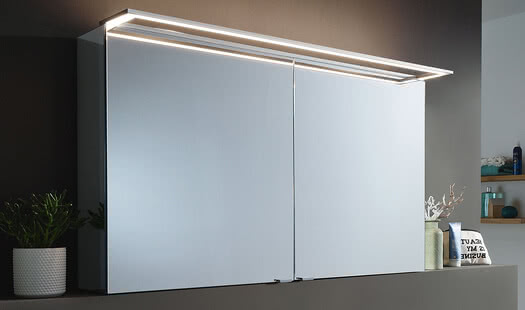 Modern-Line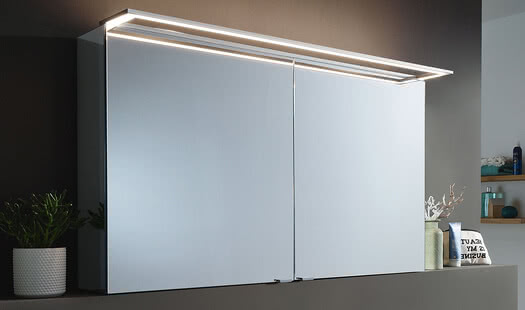 Modern-Line
Product information
Installation instructions: